Where The Vikings Need To Improve After The Bye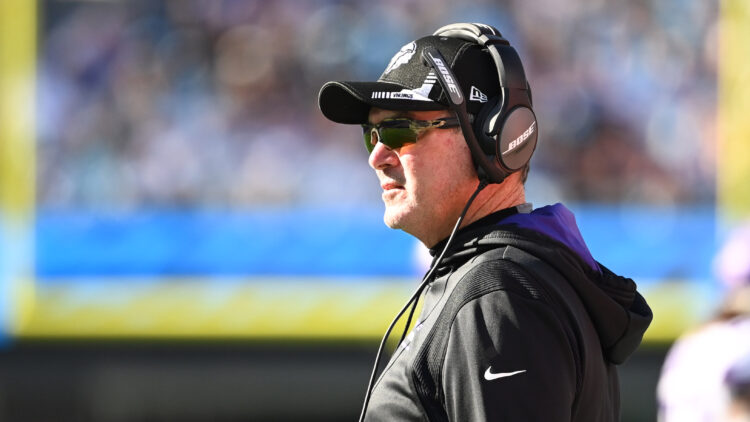 Oct 17, 2021; Charlotte, North Carolina, USA; Minnesota Vikings head coach Mike Zimmer on the sidelines in the second half at Bank of America Stadium. Mandatory Credit: Bob Donnan-USA TODAY Sports
The Vikings are 3-3 going into their bye week. They could easily be 5-1, 1-5, or anything in between. The only no doubters were the Seahawks and Browns games. You can look at that in two ways. We either have a good team that for some reason (coaching) makes their own life much harder. Or, and this I think is a stretch, the roster is bad but we find ways to win some games. Either way, they need to be better to make the playoffs.
To be a little organized (I'm usually not), I'll separate this into a few of topics: offense, defense, special teams, and coaching.
Offense
This one has little to complain about. The Vikings' offense is one of the best ahead of our bye week, but a couple of things can be better. One of the things, and probably the most important one, is to unleash them. We've seen what this unit can do, going toe-to-toe with the best offense in the league and putting up almost 600 yards on one of the best defenses. However, they also had some bad outings, like against the Browns (we'll come back to this soon) and the Lions.
Klint Kubiak's inconsistency is kind of understandable for a first-time play-caller, but he can be too predictable sometimes. After the Lions game, Kubiak and Zimmer said they would do some self-scouting to see what was going on in the second half of games. It worked, and I assume they will do it again this week. One thing that is going to improve the unit is putting the offense in Kirk's hands. Dalvin Cook still is one of the best backs in the game, but Jefferson and Thielen are among the best WRs. Also Cousins is playing the best football of his career, not to mention the emergence of KJ Osborn. If the unit comes off the bye like last year, we should be able to score against anyone.
Defense
This one is a little trickier for me. Not only because we will be without Patrick Peterson for at least the next three games, but I don't know where this defense is right now. Against the Bengals we played actually well, except for a 7-minute gap that cost us the game. We held the Browns to only one TD and 14 points but gave up almost 200 rushing yards. We allowed Sam Darnold to tie the game, converting two 4th downs, including a 4 & 10 from his own four. Contrary to our offense, which has multiple game-tying or game-winning drives, this defense isn't clutch, and I think Zimmer hasn't realized it yet.
The pass rush is miles better than it was last year and the secondary was improving until P2's injury. I'm still very disappointed with the run defense; hopefully the team will look into it during the bye, and having Pierce back should help. But this brings the thing that annoys me the most with the defense: our tackling. We are missing too many tackles for a unit with such good players. Almost every time the ball carrier falls forward, gaining a couple more yards.
Special Teams
The special teams, blocked punt apart, also looked much better compared to last year. Jordan Berry has had some great punts, the coverage unit is better, and the kickoff return should be more explosive with Kene Nwangwu's return. Even with Dede trying to give us a heart attack in some returns, he's been doing a good job as well. You can complain about Greg Joseph, but he's also an improvement to Dan Bailey. Our kicker is 5/6 in 50+ yard kicks, and let's not forget that we wouldn't even be in contention against Arizona if he hadn't nailed two 52 yarders. He also had a 53 yard game-tying kick against the Bengals, was 3/3 vs. the Seahawks, and had a 54 yard game-winner plus another 55-yarder against the Lions. So, let's not get him out of Minnesota just yet, okay?
Coaching
I'll focus more on Zimmer and Kubiak here. For Kubiak, I think it's more a lack of experience than anything else. He can be too predictable with his runs and can take too long to adapt. I also don't know what he tried to do against the Browns, leaving Rashod Hill 1v1 against Myles Garrett and putting a TE to block him too. The offense was better when the focus was on the passing game with a complementary rushing attack, not the opposite.
For Zimmer, though, I think the problem is way harder. It looks like he's still stuck with that 2017 defense in his mind, that finished games when the offense couldn't. But this team can't be a 70s team anymore, that will run the ball and win with a great defense. We've invested too much in the passing game and Kirk's been playing too well to not put the game in his hands. Zimmer's problem is not the scheme per se, it's more a mentality thing. It looks like he doesn't trust the offense to finish games or convert 3rd and 4th downs, unless we have less than 1 minute in the game. I believe that this is what has been holding this team back the most.