Forget the mess that has become the Conor McGregor and Floyd "Tax Money" Mayweather "Hype Tour", the biggest story in all of sport (at least if you're a Minnesota fan) is the fact that Teddy Bridgewater, who famously almost lost his leg below the knee last preseason, is looking amazing as he appears to be way ahead of schedule in terms of his recovery. Considering the uniqueness of an injury where his entire lower leg, starting above the knee, essentially became dislocated from his femur and thus almost lost blood supply/nerve connectivity, there really has never been a clear cut timetable for Teddy's return to the NFL. The general consensus, though, has been that he'd be out for the entire 2017 season after missing all of 2016, as well. That may no longer be the case.
This is a video from six weeks ago… Where Teddy is rocking a pretty large leg-brace on the left leg that he injured, but still looks pretty darn good.
Hey Teddy! https://t.co/5oYidcHyWQ pic.twitter.com/IxRQgbwuIa

— Minnesota Vikings (@Vikings) May 23, 2017
Now, this is him yesterday (presumably, at least when he posted the image to his Instagram which is set to private but was sniffed out by the good people over at the Star Tribune) practicing sans a leg brace and apparently while fighting off the largest rain drops recorded in Earth history.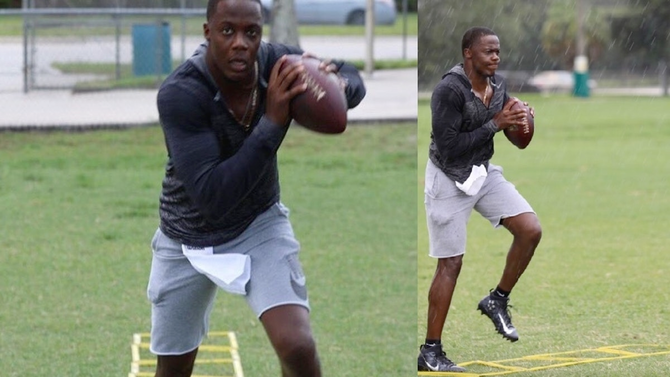 Even as the guy who has been labeled a "Teddy-Hater" (I love the guy and root for him, I just didn't think he had reached his full potential yet), this picture gets me all misty-eyed. Honestly, that injury could've been the end of Teddy and it would've fit right in with a lot of the bad luck the Vikings seem to have. So, seeing him apparently as he just stopped dropping back, without a leg-brace, is so encouraging and how can you not root for this kid? But, there is a difference between rooting for him as a person and rooting for him to come back to the Vikings in 2017 (even as a back-up), however.
The Vikings have zero reason to bring back Teddy this season as things stand right now. Sam Bradford had an amazing first year with the Vikings in 2016, breaking the single season NFL completion percentage record and really succeeding despite the offense essentially crumbling around him. Outside of that, Teddy's contract can be extended a year, red-shirt style, if he's on the IR the entire time. Being able to move back what will probably be a pretty large contract (just ask Derek Carr, who just signed the biggest contract in NFL history, who was drafted a few picks after Bridgewater in the 2014 draft) would really help the Vikings out as they have to resign a lot of players in the coming years. It would also allow Teddy time to really, really recover and also learn behind Bradford, who should have the best year of his career (again) with the Vikings improving every part of their offense this offseason.
This is essentially uncharted territory for the Vikings, who have for as long as I've been cognizant as a fan (being born in '84), have never had a quarterback controversy or two potentially elite (yeah, I said it) QB's that they have to figure out what to do with. The Vikings may have amazing trade-bait on their hands and could end up with a ton of picks (multiple first rounders for Teddy/Bradford?) or a marquee player and picks. Either way, it's a good "problem" to have and means that great things should be on the horizon for the purple and gold. Regardless of the future, it's just so great to see Teddy back and looking like he used to. Even if we're going to enter a "Teddy vs. Bradford" situation that will most likely dominate Vikings news for the upcoming… Forever. While that might get old, fast, it's better than the alternative, so, bring it on (as it means that Teddy is ready to play and that's something some of us thought may never happen again).