I get it. It's "only" week five of the NFL season. Teams have started 2-2, or 2-3 and gone on to win the rest of their games and make a deep playoff run. It's the NFL, which more so than any other professional sport is a week-to-week league. That having been said, what going on in Eagan isn't the status quo for a typical 2-2 team. This week's news has been borderline nightmarish, and that's coming from a guy who has been on record for my support for both Vikings quarterback Kirk Cousins as well as the increasingly mercurial wide receiver Stefon Diggs.

With everything that's going on, and the confirmation by both the team and Diggs himself that he's frustrated (to the point of missing practice/meetings… To the point of the team fining him and his status for the Giants game being a "wait and see") as well as the comments after the Bears game from the other Vikings star receiver in Adam Thielen…Sigh… As well as the lack of success this team is having… Sigh again… And it's not hyperbolic to say that this very well could be the most pivotal fifth game of the season in team history.

Let's start by talking about Diggs.

I was on KLGR Radio's 'The Scoop w/ Seth Toupal' last week discussing the rumor that Diggs was requesting a trade. At that time the narrative was that that rumor was created by someone in Bears media, and was perhaps given some credence by the fact that Diggs' own brother had posted something about a trade in the past: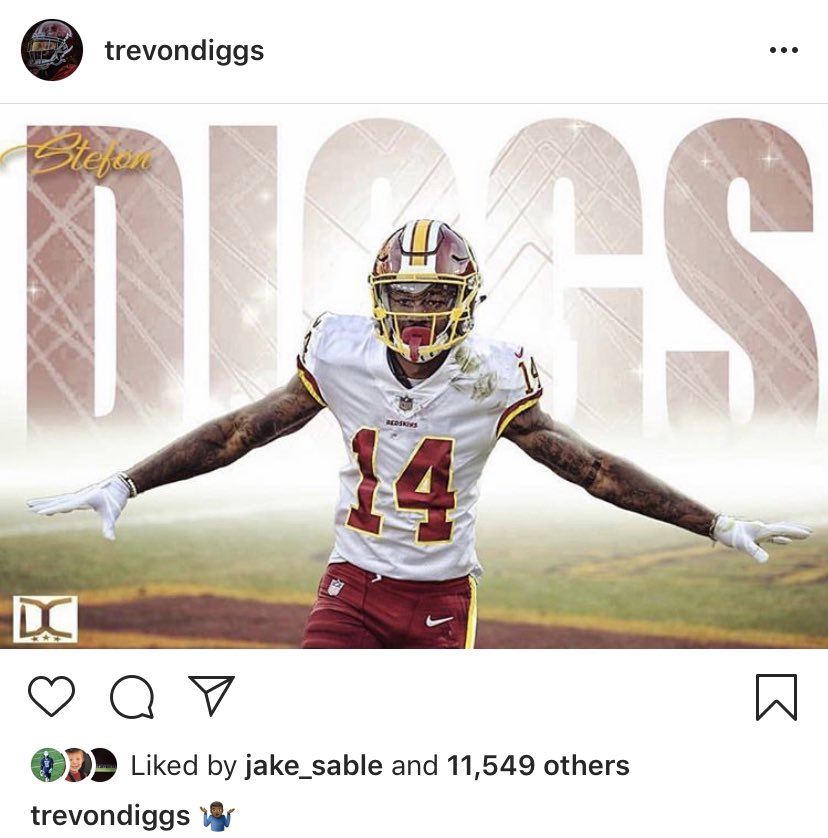 That Tweet was quickly written off as a troll but it always made me feel uneasy as you'd think that the brother of an NFL star, one that had just been given a massive contract extension that was based more on potential than actual output, would be smarter than that (especially considering that FIRST NAME Diggs plays football himself). Often when things backfire there are two types of reeling justification, the first is to say that your account had been hacked and the second being that you were just joking or trolling.

While the Tweet was at least initially forgotten it always scared me as I was the first person in Vikings media to call Diggs the Steal of the Draft, back the year he was drafted. Maryland had just been added to the Big Ten, the objectively best conference in the NCAA and I'd heard a lot of positive things about Diggs on Reddit from Terrapin fans. That lead me to do some research on him and from what the Terrapin fans had said, he was a star in the making whose draft stock was hurt by his injuries.

The idea of losing Diggs obviously is terrifying for any Vikings fan. While he isn't on Moss' level, you'd have to think that losing him would be extremely detrimental to the Vikings' entire offense. While Cousins and Thielen were breaking records to start the 2018 season, a lot of that was due to the attention that opposing defenses were paying to Diggs. While Thielen typically gets his, it's Diggs that is just as crucial to Thielen's success as Thielen is to Diggs'.

Despite his great play on the field, though, Diggs has increasingly shown a side that should also terrify Vikings fans. While I was one of the first to write the 'Trading Diggs makes no Sense' articles before the Bears game (Christ, I am patting myself on the back so much in this article that I'm surprised I haven't pulled a muscle), I also have seen behavior from him that can only be described as selfish.

Sure, the passing game is in disarray right now and you want your wide receiver(s) to have a little bit of narcissism and selfishness. It's those components that can drive some receivers to push themselves beyond normal human levels in terms of training and drive, after all. It's that 'Give me the Damn Ball' (a la Keyshawn Johnson)-itis that can be a major source of motivation. The fact that more often than not elite receivers show some of those traits (think Terrell Owens, Randy Moss (sometimes), Antonio Brown, Odell Beckham Jr., etc.) and that's not a coincidence. However, the key is balance never putting oneself above the team and there have been times, increasingly and recently, that Diggs has put himself above the team.

The most obvious example is the post Touchdown helmet removal from the Packers game. The Vikings ended up tying the Packers in Lambeau in 2018 and so you'd think that Diggs would be very aware of how important one point is, especially considering that the Vikings were losing at that point in the game. By removing his helmet, though, he turned a 33-yard extra point into a 48-yard shot, one that ended up being blocked. That didn't just block one potential point but it also helped the Packers retain some of the momentum that deep ball touchdown would've given the Vikings.

On a more general level, though, this entire thing reeks of 'Me, Me, ME' at a time where you'd think receivers would be on high alert that people are sick of that behavior. The NFL/general news cycle(s) this year has/have been dominated by another (former) receiver, whose behavior has crossed over into psychopath territory (people say sociopath but sociopaths feel emotion and ignore it while psychopaths don't feel emotion). We all know that I'm talking about Antonio Brown. While I'm not comparing Diggs' behavior to the criminality that Brown has shown, you'd think that he'd be a bit more self-aware either from a PR perspective or from a self-sustaining one. In about three weeks Brown basically social media'd himself out of around $100 million dollars (in NFL and sponsorship contracts), but if anything Diggs' behavior/attitude has gotten worse since the Brown news has broken.

Perhaps he's seen some opportunities with other teams? I, again, wrote about the prospect of trading Diggs over a week ago but that was mostly tied to the Diggs-for-Jalen Ramsey idea that some people had been floating around the internet. If you want to hear why that's nonsense, click HERE but it shouldn't take more than ten seconds of thought from any Vikings fan to realize why that move would end up as a massive net negative for this organization. That is, of course, unless Diggs continues to refuse to practice (or god forbid, play in games). If that were the case then you'd end up with Diggs basically lowering his trade value, which would be an even worse nightmare than the Vikings find themselves right now.

Which was the point of this article. But, because Diggs is a major component (because he's thrust himself into the middle of it), it's important to point out a few things. First, the Vikings have been VERY good to Diggs. He's currently the 13th highest-paid receiver in the NFL (based on per season salary) despite only cracking the 1,000-yard barrier once (and by 21 whole yards). As previously stated, the Vikings invested in Diggs' potential, not his output.

That's fair and made sense at the time because the Vikings had a revolving door at the QB spot during Diggs' first few seasons on the team. So, maybe this is just him being frustrated about his entire career, as he's felt like he should be putting up the numbers that Odell Beckham Jr. or Antonio Brown have. However, he hasn't articulated things that way, at least not to the media.

Because of that and the team-friendly deal that the still finding his footing Thielen signed, it made sense to lock up Diggs for the foreseeable future with a generous contract. So, I'm not specifically pointing at Diggs' numbers sans context and saying that he didn't deserve the money he received. I'm sure that plays into some of his frustration. Speaking of Brown, if there's any receiver that is still in the NFL that plays A LOT like Brown played, it's Diggs.

They're similar heights and builds (Diggs is listed as two inches and ten pounds heavier, but I've always felt like he was a generous six feet on scouting reports), they both ran around a 4.46/4.47. They both run/ran immaculate routes. Perhaps with Brown gone, Diggs is thinking that he could emerge as his successor as the slender, immaculate route running speedster. I'm having to speculate because his behavior hints towards him being upset about something outside of the way the season is going.

Sure, everyone, including the "experts" that create football odds had the Vikings pegged as an elite team. I always expect the worst from Minnesota Sports teams and even I had felt like with the investment in the offensive line and the hiring of Gary Kubiak (and his team), that this year was the best shot that the Vikings have had at making a real run since at least 2009 (and perhaps ever).

That having been said, this isn't how you show that you're frustrated, at least not if you're interested in team success and not personal success. But even beyond that, Diggs already has his contract and if he was upset about getting numbers because those numbers dictate the numbers in his bank account, it wouldn't make a whole lot of sense considering he's got a $72 million dollar deal. Sure, his deal is predicated on certain milestones, but those milestones are all based on games played, not on hitting X amount of yards. So, by potentially not playing in the game Sunday, and the two-to-three games he'll probably miss due to injury, he's actually hurting his chances of making all the money he could in 2019.

Vikings legend and team leader Chad Greenway (who was so much of a team leader (and was respected so much) that reportedly coach Zimmer called on him the off-season after he retired to pick his brain about what he could improve on as a coach in terms of media relations and talking about the team) was on my podcast, 'Morning Joes' this week and essentially echoed the same sentiments. If Diggs truly cared about how the team was doing, this certainly isn't the way to show it. It is actually even more detrimental to the chances that the Vikings have as it's safe to say that the problems they're having in the passing game stem from what's going on, at least mostly, between Cousins' ears.

Cousins appears to be a mix of gun shy and overwhelmed. There's always a tremendous amount of pressure on the quarterback, but outside of this situation, there's even more for obvious reasons. Add to that the national media attention that's turned it's gaze on the Diggs situation (like Cousins just threw Diggs the one ring and Sauron became aware) and you'd have to think that it's made matters even worse for Cousins, mentally.

On top of THAT you have Thielen coming out and basically slamming the media for "twisting" things in an attempt to make things worse for them sweet, sweet clicks. Thielen was WCCO radio Friday and said the following after stating that everything between he and Cousins was "good":
"You know, the media always tries to twist things and make things into what they're not."
While some in the media were quick to return the slam at Thielen by stating that they were just opining on his post-game statements about not being able to run the ball all the time, I do understand what Thielen was talking about. He didn't mean he was upset that the media reported his words, but rather that they added additional context to it. That context being that Thielen was upset with Cousins as opposed to Thielen being upset with play calls, or the coaches that make those play calls. Granted, Thielen did add things like:

"…And that's when you have to be able to throw the ball. You have to be able to make plays. You have to be able to hit the deep balls…"

The "You" in that sentence is Cousins. Sure, you could say that the "You" in the deep ball could refer to both Cousins and the person on the receiving end of said deep balls, the only person that's involved in being "able to throw the ball" is Cousins.

It's fairly obvious that Thielen is trying to dial back his heat of the moment comments, though, and I think that creates an important distinction between the type of person and player he is, generally but especially when juxtaposed to how Diggs is acting currently. Thielen's comments were made right after the game, he was upset and he had a right to be. However, he clearly either realized that he'd given the media too much red meat, or the team sat him down and said that he needed to fix what he'd started. Either way, he ended up on Cousins' podcast a few days later and attempted to patch things up that way.

Beyond that, he also attempted to blame the media for things and regardless of whether or not you buy what he is selling, he is at least trying to make things better because he understands that by adding more pressure to Cousins you're actually, you know, making the situation that you're upset about MUCH worse.

Diggs, on the other hand, had days to think about the situation and has decided to skip meetings and practice and also keep the team in limbo as to whether or not he'll play Sunday. How does that help? While this may sound hypocritical because I've said in this article that while it's week five it's also at the point where the Vikings are on the verge of collapse, keep in mind that a large part of my thinking is based on Diggs' behavior. Even without any of the Diggs news, I'd still have said that this game was incredibly important and that a potential 2-3 Vikings team would be in really rough shape. However, the whole nightmare aspect is largely predicated on the dirty laundry Diggs is airing and it's really just unnecessary.

When Randy Moss walked off the field with over two whole seconds left as the Vikings were attempting an onside kick against the Redskins in 2004, I defended that action because the Vikings were yet again imploding despite a really strong start. The Vikings missed the playoffs in 2003 despite starting the season 6-0, and after a 5-1 start in 2004, it appeared that they were on the verge of yet another collapse. That collapse was tied to the fact that then-owner Red McCombs had refused to spend even enough money to hit the minimum salary cap amount. The Vikings had an amazing offense, mostly thanks to Moss, but their defense was populated by a bunch of who's that and cardboard cutouts of players from the '70s.

Moss' frustration made sense. He felt that he was squandering his prime playing years on a team that refused to make even the minimum investment. This Vikings team isn't that Vikings team. This Vikings management and ownership isn't that Vikings manager and ownership. Sure, everyone is frustrated, from writers to fans, and the players are obviously much more invested and thus more frustrated than we could ever be. But, how does anything that Diggs is doing help rectify things? How doesn't it make them that much worse? What is he thinking?

MAYBE if anyone but Diggs was doing this it wouldn't reek of selfishness. But Diggs has increasingly shown that he really only cares about himself. He's also not exactly played perfectly this year, either. He's had drops, he's taken his helmet off which essentially cost the Vikings a point against the Packers.

So. I planned on writing about the game itself and how important Cousins' play was but I just can't get over what Diggs is doing. Clearly. So, we'll see if he ends up playing. My guess is that he will and that somehow he thinks he's showing his passion and thus, trying to impart to everyone on the team that he wants to win and that he wants success.

But clearly this is the absolute worst way to go about it outside of uppercutting Cousins in the huddle. I love Diggs and always have and I was one of the main defenders of what Moss did (and didn't do) back when he was with the team (both times). But this isn't that, this is much more selfish than anything Moss did and it will forever mar Diggs' reputation.

Let's hope it doesn't do the same for the Vikings lingering chances to correct things this season starting with Sunday's game against the Giants, as I can't even imagine what nightmares are to come should the Vikings lose to the Barkley-less G-Men at noon Sunday.