With the NFL combine now in the rearview, everyone in the NFL writing game is adjusting their thought processes and mock drafts accordingly. While the Vikings powers that be were busy making all sorts of news at the combine, the fact remains that they have a tremendous amount of work to do this off-season to even field 55 players each Sunday/Monday/Thursday (for some reason) in 2020.

At the beginning of the off-season, the Vikings had nearly 20 players set to become free agents on the 18th of March and the least amount of cap space of any team in the NFL (or, silver lining, the most negative cap space of any team! Yay! Optimism!). Because of that, there's less talk in the Vikings writing sphere about incoming free agents and more talk about how the team can fill it's current and pending openings with players from the draft.

Anyone who is anyone has thoughts on that subject and with the Vikings currently holding the 25th overall pick in the draft, the options are seemingly limitless (as it's not quite high enough to limit the position/options by position that you might get with a top-five pick, for example). So, I thought I'd save you all some time by pointing out what a couple of national pundits are saying about the Vikings and their potential picks after the combine.
1) Matt Miller, Pro Football Focus, Josh Jone, OT, Houston

If you've paid any attention to my podcast, articles, or late-night screams into my pillow, you'll know that I've wanted the Vikings to invest in their offensive line for… Far too long now. While the last couple seasons they've done that, they have a maddening tendency to undo any depth or continuity from those investments as opposed to, you know, investing further in the line when needs arise.

That seems to be in the cards yet again this off-season, with head coach Mike Zimmer yet again stating that he'd be open to moving left tackle Riley Reiff to left guard at last week's combine.

Hopefully, that doesn't end up happening, but considering the fact that safety Anthony Harris may be too expensive for the Vikings to retain and defensive lineman Linval Joseph may get bought out and the fact that the Vikings are lead by Mike "I only draft defensive players" Zimmer, it's hard to imagine that the team will end up using their first pick on the offensive line despite all the evidence showing that the line is always the Achilles heal each season.

But, let's pretend that it'll happen just so those of us who link our emotional well-being to the success (or lack thereof) of this franchise can sleep until the end of April. That's where this article from BleacherReport.com comes in. BleacherReport.com's Miller says of Jones:

"You could pick many positions for the Minnesota Vikings' selection at No. 25 overall and not go wrong. Quarterback of the future, cornerback, defensive tackle and the always-popular offensive line pick all make sense. In this mock draft, based on player and positional value, left tackle Josh Jones gets the call."

Riley Reiff could end up as the left guard in 2020 as Pat Elflein had an awful 2019 and Reiff has $4.4 million in dead cap money should the team try to buy him out. I'm all for keeping Reiff AND drafting his potential replacement as there's no guarantee that any rookie could step in on day 1 and elevate this offensive line. There's also some value in continuity, something this line has had anything but during the Zimmer regime.

While Jones wouldn't be a flashy pick, and moving Brian O'Neill to left tackle might make sense (as it's easier to draft a right tackle at 25 than a left tackle), I like this pick for a number of reasons and hope that with Gary Kubiak at the helm on the offense, that Vikings general manager Rick Spielman will be able to ignore Zimmer's calls to draft more defensive players with the first pick.

Speaking of which…
2) Todd McShay, ESPN, – Trevon Diggs, S, Alabama

In McShay's "Post-Combine prediction for Round 1", McShay predicts that Stefon Diggs' little brother will unite with his older brother Stefon (assuming the Vikings hold onto the highly versatile and volatile receiver). Of the younger Diggs McShay states:

"Diggs is ultra-versatile and has really good closing burst. And since he grew up playing wide receiver like his brother Stefon — a future teammate in Minnesota in this scenario — Diggs has excellent ball skills as well. Trae Waynes, Mackensie Alexander, and Marcus Sherels are all free agents, and 29-year-old Xavier Rhodes struggled all season. The Vikings had 17 interceptions last season, tied for the third-most in the NFL, and coach Mike Zimmer isn't afraid to draft a Day 1 cornerback (two since 2015) to keep that secondary strong amid potential losses."

It's hard to imagine the Vikings drafting anything but a left tackle in April, as the offensive line has been the weak point for this Vikings team since Mike Zimmer took over in 2014. Now, people have said that the team could potentially switch Brian O'Neill and Riley Reiff from right tackle to left tackle, respectively, or even move Reiff to left guard, O'Neill to left tackle and then they could draft a right tackle in the second or third round(s).

I've subscribed to that logic since the end of the season and still do, however, with the recent news that the Vikings are "bracing for life without Anthony Harris", it might make sense to take a player like Diggs, who could help replace the lost interceptions that Harris would've brought in 2020.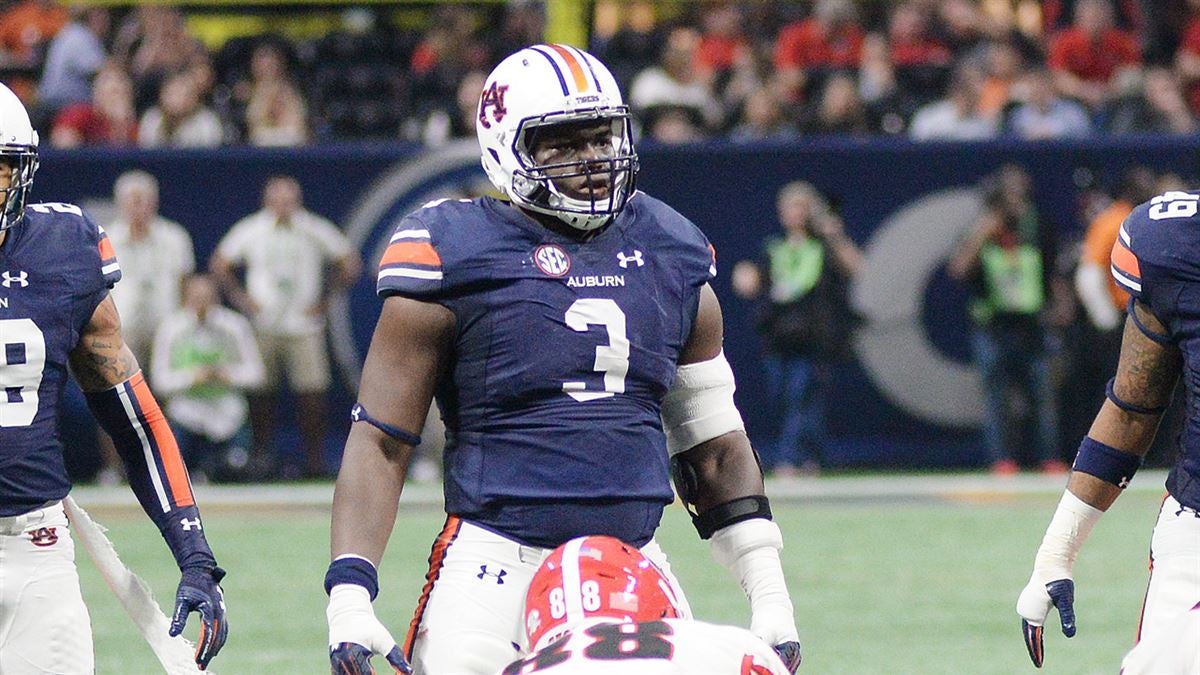 3) Mike Renner, Pro Football Focus, Marlon Davidson, DT, Auburn

With Everson Griffen opting out of his deal, that leaves another Vikings defensive lineman that is over the age of 30 and making over $12 million, Linval Joseph.

While that Griffen move put the Vikings back in the black in terms of their salary cap, they still need to figure out what to do with Joseph's deal. As Kyle Ratke of VikingsWire.com agrees, regardless of whether or not the Vikings buy out Joseph, they'll still be in the market for an interior offensive lineman in April's draft.
Mike Renner of PFF thinks that the Vikings will fill that spot with their first pick in the draft and with Marlon Davidson of Auburn. About Davidson and his fit with the Vikings Renner wrote:

"Davidson continues to bulk up into a three-tech this offseason. After being listed at 280 for Auburn last year, he came to the Senior Bowl at 297 and then checked in at 303 this past week at the Combine. The fact that he still ran a 5.04 40 at that weight should be considered a win. He should be a massive upgrade over Shamar Stephen, who collected only six pressures on 350 pass-rushes last season."

Davidson's stock has risen thanks to a strong showing at the combine and if the Vikings move on from Joseph, it's safe to say that they'll be looking to bolster the interior of the defensive line. Let's hope that doesn't happen, though, as it's the offensive line that needs to be bolstered if this Vikings team stands any chance at making a Super Bowl run in 2020."

Stay tuned to purplePTSD.com and it's sister site, VikingsTerritory.com, for all your Vikings and NFL Draft news!