Leveraging The 12th Draft Slot Could Accelerate The Vikings' Ascension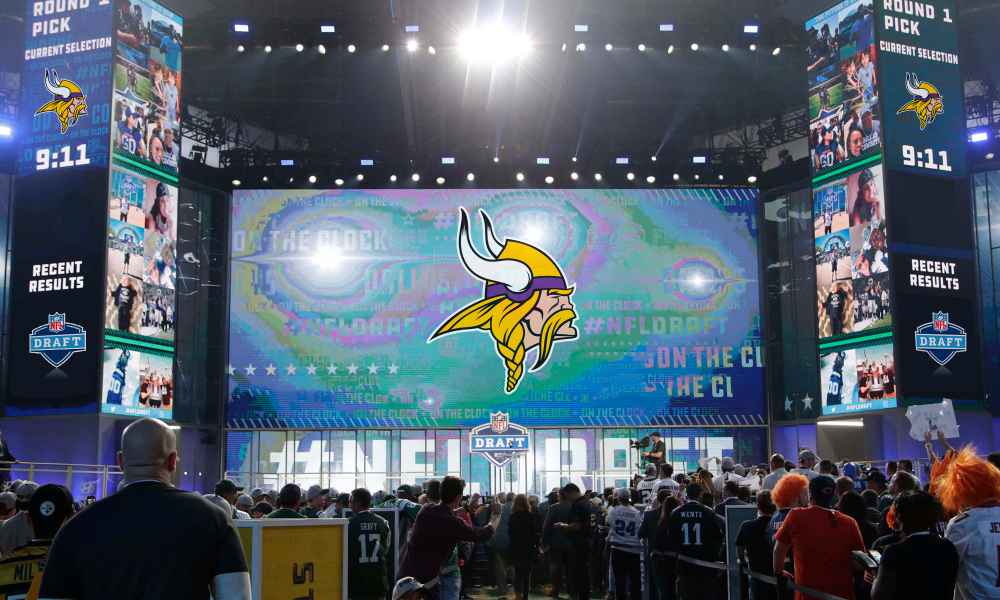 Apr 26, 2018; Arlington, TX, USA; Dallas Cowboys on the clock in the first round of the 2018 NFL Draft at AT&T Stadium. Mandatory Credit: Tim Heitman-USA TODAY Sports
Obviously, most of the attention lately has focused on what everyone's favorite purple team will do at GM and HC. Gone are Rick Spielman and Mike Zimmer; who replaces them is anyone's guess (I'm guessing Spytek and Leftwich). These two decisions will be the most important ones of the offeason, for it is these two who will be giving the franchise a new direction and identity. One thing that has gotten a little bit overlooked recently, though, is how the draft will play into that. The Vikings pick 12th, a spot that may end functioning as a critical turning point in the draft.
The Vikings' 12th Pick and a Brief History Lesson
Last season's 12th pick turned out reasonably well. Micah Parsons has been an absolute terror in his rookie season. The so-called middle linebacker has consistently been lined up along the edge, giving Dallas another defensive weapon for offenses to worry about. It's a 99.99% certainty he wins Defensive Rookie of the Year.
Not every rookie can match Parsons. There has been legitimate chatter about him being in contention for Defensive Player of the Year, so it's safe to say the young fella has been sensational on the field.
What's easy to forget about that pick, though, is that it didn't originally belong to Dallas. In fact, the 12th spot changed hands multiple times. The 49ers traded up to third overall with Miami. To do so, they had to surrender the 12th pick, a 2022 first, 2022 third, and 2023 first. There's next to no chance the Vikings pursue this strategy with the 12th pick.
Shortly thereafter, the Dolphins traded away their recently-acquired 12th pick to Philadelphia. Miami got the 6th pick and 156th pick in exchange for the 12th pick, a fourth in 2021, and 2022 first. Again, a massive price, one that Minnesota would be hesitant to pay.
What's interesting, though, is that there was another trade not too long afterwards. Philadelphia traded up with Dallas to get to the 10 spot. The cost was a third rounder in that draft. So, not insignificant, but also not future-first(s) massive. If the Vikings are in love with someone who is tumbling down the board but unlikely to get to 12, a move can be made for a price that isn't totally backbreaking.
Another Critical Factor
Of course, the Vikings aren't predestined to trade up. They could very reasonably trade down.
One thing that makes the possibility even more plausible is the mere fact that it's close to the Top 10. If a team is convinced a bonafide top tier player has slid down the board, they could be inclined to jump up to ensure they snag their man. Moreover, it's also notable that there doesn't appear to be a consensus, surefire QB toward the top. In the past, we've seen several QBs go in the opening 10 picks. We may not see any go that high this year.
That being said, it's entirely possible that there could be a run on QBs through the teens. It's not like the position is somehow less important. If a team picking further down the board thinks they could turn someone like Matt Corral into a legit QB1, perhaps they make the trade. Last year, the Bears jumped up to 11th for Justin Fields. It cost them the 20th pick, a fifth, a 2022 first, and a 2022 fourth. In other words, it can be lucrative for a team to be in a bit of a transition point in the draft.
Of course, the Vikings may stay where they are. A player with the ability of Micah Parsons can instantly rejuvenate a defense. Perhaps the Vikings will find someone who can instantly contribute in a massive way. Until the pick is made, expect plenty of speculation.