Vikings Press Conference Provides Insight on the Upcoming Offseason
Kwesi Adofo-Mensah and Kevin O'Connell
The Minnesota Vikings held a press conference on Wednesday afternoon to discuss the results of the 2022 season as well as the steps heading into the offseason. The conference featured both general manager Kwesi Adofo-Mensah as well as head coach Kevin O'Connell. Here are the main takeaways from this Vikings press conference.
1. For Now, Ed Donatell Remains DC
There was some speculation that this press conference could include an announcement that the Vikings were letting Ed Donatell go from his role of defensive coordinator. After a season in which the team was among the bottom five in terms of total points and yards allowed, the defense has gone throughout much scrutiny over recent weeks and months.
However, Kevin O'Connell said that there is still an "ongoing evaluation" regarding Donatell as well as the Vikings defense. He did not rule out the possibility of a change down the road, but he also didn't confirm that a change will happen. For now, we must wait.
2. Expect Kirk Cousins to Be Back as QB1
There has always been little doubt that Cousins would be back in 2023 due to his no-trade clause in his most recent extension, but Adofo-Mensah confirmed on Wednesday that, indeed, the "expectation" is that Cousins will remain the Vikings QB in 2023.
Cousins' statistics took a little bit of a dip in 2022, but he truly stepped up in clutch situations when Minnesota needed him. The Vikings QB led 8 game-winning drives throughout the course of the regular season, but his final throw of the year will be the one that leaves fans with a bad taste in their mouths.
Heading into 2023, Cousins will enter his age-35 season, meaning we may be seeing the final years of his best football. No hint at another contract extension this offseason was made, though. The Vikings QB carries a $36.25 million cap hit next season.
3. Tough Decisions Will Be Made Regarding the Roster
Throughout the past few days since the Vikings were officially eliminated from the playoffs, there have been hints about a very busy offseason regarding the status of veteran players. While Adofo-Mensah didn't flat out say that they will be making serious roster changes, he did say that "we're trying to meet…a championship standard, and how we get there will look different year in and year out".
The Vikings have a number of aging veterans on the roster, particularly on the defensive side of the ball. They also find themselves in a spot where they need to free up cap space heading into free agency and the 2023 Draft. In order to do that, some of these players will inevitably be let go.
4. Don't Expect Huge Moves for Draft Picks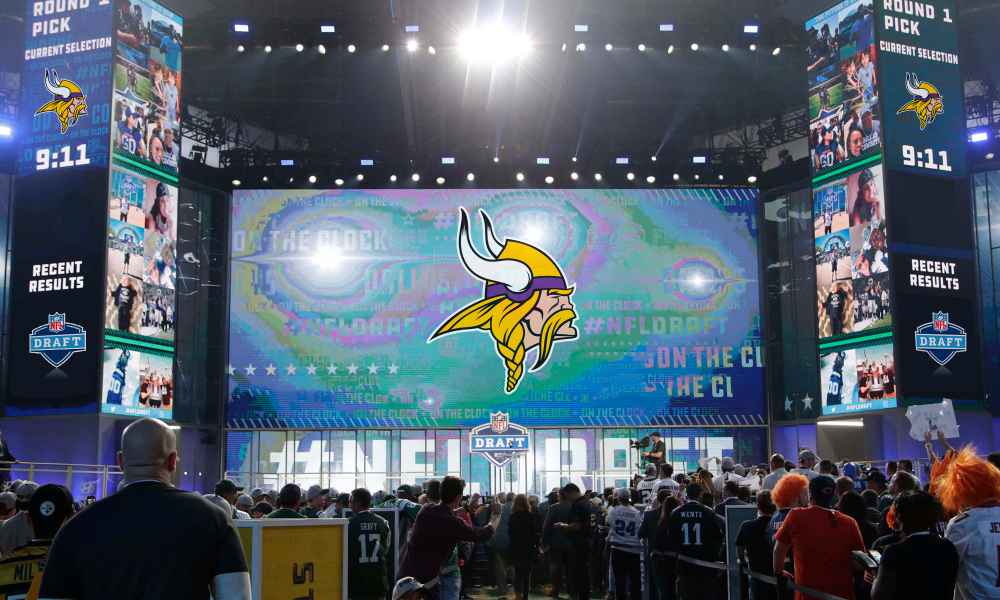 The Minnesota Vikings only have four draft picks this spring, prior to official release of compensatory selections, which is far fewer than the 10 selections that they made in 2022. Because of Adofo-Mensah's propensity for swinging trades, some may have the expectation that he'll make a huge trade to move either up or down in the first round.
This may not necessarily happen. The Vikings GM touched on the fact that he believes they have a number of young players on their depth chart, and even hinted at the fact that their 2022 class almost counted as two classes because of how large it was.
Overall, this response leads me to believe that they are largely content with where they stand in the draft, although Adofo-Mensah did add at the end of his response that "there's always ways" to add more picks. Perhaps they trade down in the first round to add another Day Two pick, but that would probably be the extent of their major draft moves.
5. A Justin Jefferson Extension Is in the Works
Let's close things out on a positive note. Indeed, Adofo-Mensah confirmed that the Vikings are working towards getting Justin Jefferson his long-anticipated contract extension that would keep him in a Vikings uniform for years to come.
Adofo-Mensah pointed out that there have already been discussions with Jefferson and his agent regarding the contract. There should be an expectation among fans that a deal will be finalized this offseason.
Josh Frey is a Class of 2020 graduate of The College of Idaho with a bachelor's degree in Creative Writing. He also earned minors in History, Human Biology, and Journalism. When he's not writing about the NFL, Josh enjoys marathon training, playing video games, or rooting for the Milwaukee Brewers and Bucks. For more of his opinions, check out his Twitter account: @Freyed_Chicken.