The Vikings Will Draft One Of These Nine Players At #48
Every football writer in the blogosphere is writing mock drafts this time of year. I'm doing something a little different. I've made a bet with my father to make things fun. I get to name nine players. If one of them is taken at #48 (or with the first pick the Vikings have, should they make a trade), I win. My dad gets the field. So compiling this list is going to be a tall order. I shouldn't restrict myself to players I'd like – some of these players, in fact, would make me pretty upset. But by reading the tea leaves of the Vikings' behavior through free agency and evaluating prospects, I can better project the likeliest picks to happen, even if they aren't my favorites.
---
Malik McDowell, DT, Michigan State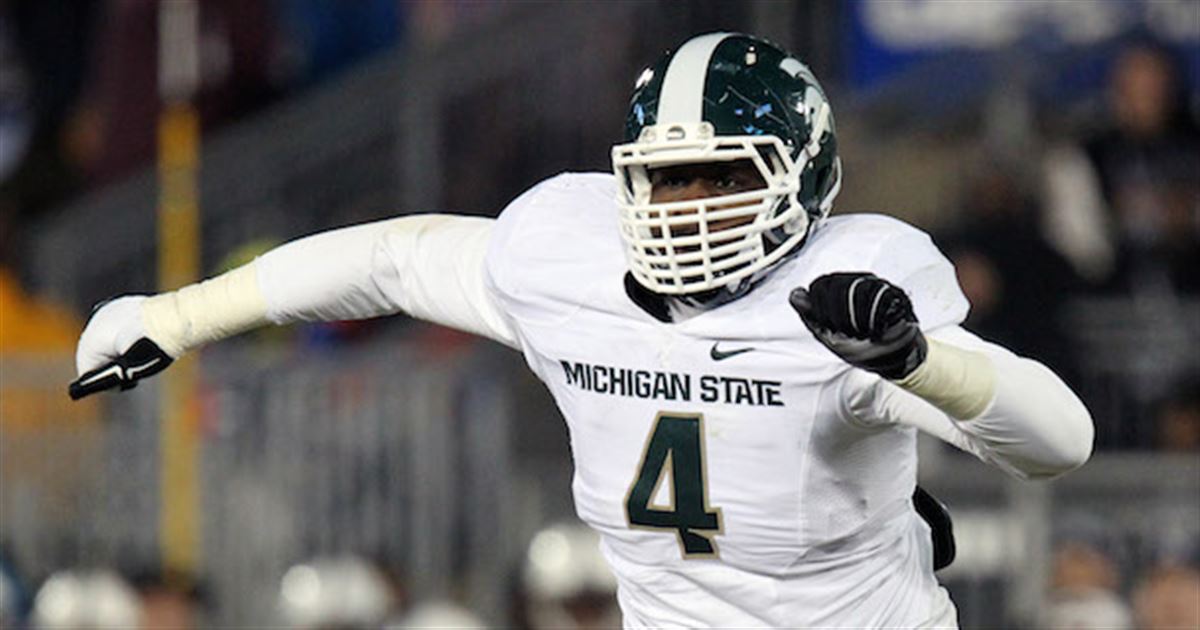 McDowell is the single player I'd be happiest with at #48, and also seems to be a likely target. His talent, athleticism and ability are off the charts. He'll be only 21 years old by the start of the 2017 season, checking the age box (the Vikings love to fall for 20-21 year old players). He's a bit raw, and light on variety of pass rush techniques. His SPARQ (a measure designed to quantify overall athleticism) is elite and he produced plenty for his age. He's played all over the defensive line, which is incredibly valuable even in a deep position group like the Vikings have.
The catch with McDowell is with his motor. During a 3-9 Spartans campaign, he was clearly losing his fire and motivation, often seen getting frustrated or "coasting" on plays, as Mike Zimmer would put it. I can't possibly explain this better than Brett Kollmann can, so just watch that video for a phenomenal breakdown of everything he does. The Vikings met with McDowell in March, so I can only assume they've determined whether or not they can get over his issues. He's either near the top of their board, or off it entirely.
Dan Feeney, G, Indiana
Dan Feeney is the most commonly mocked player to the Vikings at #48, and with good reason. Next to Forrest Lamp (who isn't on this list because it's highly unlikely that he falls out of the first), he's the best interior offensive lineman in this draft. Feeney is an absolute mauler with decent all-around athleticism (balanced, though unremarkable). He's been called a "plug-and-play" starter by many analysts, including Dane Brugler (buy his draft guide) and Mike Mayock.
Feeney, by all means, should be a first round pick easily. But durability issues could cause him to fall, as well as his existence in an undervalued position group. Most notable is a possibly detrimental concussion in September of 2016 that kept him out of five games. Conventional wisdom says that with each concussion, they take longer to recover from, but a long-recovery process doesn't seem to actually be related to future concussions. Or at the very least it's an unknown, which puts him on the same level as every other player with a concussion on their record.
Joe Mixon, RB, Oklahoma
It's hard for me to put Joe Mixon on the list for easily inferable personal reasons. It's also hard to put Mixon on the list because it's hard to imagine the entire NFL passing on him, with many teams passing on him twice, considering his talent. But if teams won't accept the proven talents of Ray Rice, will they accept unproven talents? The Vikings don't seem worried. It's not controversial to say that Joe Mixon is one of the best running back prospects in this class. He's young (20) and an every-down player with the skills to become a premier weapon in the NFL. Should he be available at #48, he'd undoubtedly be one of the best available players and would transform the offense.
Considering the Vikings' strong connection with Mixon, I'd be foolish to leave him off this list. I've said previously on the Purple Journal Podcast how important redemption is to me, which is in conflict with my feelings about Mixon's incident. Should the Vikings draft him, it would indicate that he showed in interviews that he's matured, and ready for his redemption. They're clearly willing to forgive his transgressions, so long as they're confident history doesn't repeat itself. Therein lies the question.
Taylor Moton, T, Western Michigan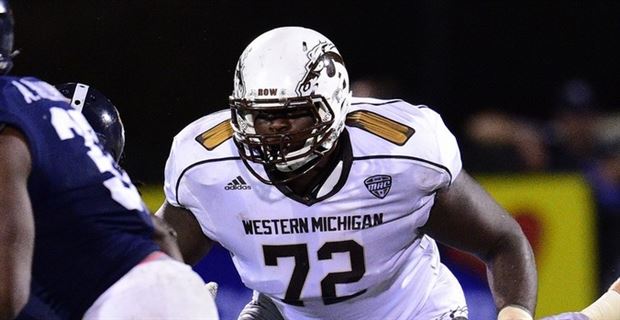 Moton has been rising up draft boards as one of the better offensive linemen in a weaker class. He burst onto the scene during the Senior Bowl, and his versatility is attractive. He's played mostly RT, but has played RG at a similar level. Further, his body type tests better as a guard than as a tackle, so it seems plausible for him to play either. With the recent mention of moving Mike Remmers to guard, the flexibility is nice, and that can be untangled in training camp. He's one of the more athletic linemen in the draft, which may catch Spielman and Sparano's eye.
Moton isn't without issue, and scouts have seen through the benefits he got from his FBS competition. Several technique issues didn't show up on the stat sheet, but will make his NFL transition tough. Moton's 23 bench press reps could turn teams off, but phenomenal broad jump and vertical jump scores are much more indicative of his strength in a typical OL blocking scenario. As a flexible and compliment to Mike Remmers, he'd be a good choice to complete the O-line rebuild. Don't be fooled by the fact that he's the successor to Willie Beavers.
Budda Baker, S, Washington
It was originally difficult for me to put a safety on this list, and upon original publishing I gave this slot to Duke Riley. The Vikings haven't visited with any highly projected safety prospects, save Josh Jones, a consensus 3rd rounder. But there's so much depth to this Safety class that Baker could fall and be the head-and-shoulders best prospect available. His agility and speed make him an ideal "centerfielder" candidate, and also someone who can compete with Mackensie Alexander for the slot corner position. Should Baker be able to provide value in the nickel package, it would lessen the need for the base package, relieving pressure from the hole a base linebacker. Baker's pick could contribute to solving three different defensive needs (or at least justifying later picks for them).
Baker is one of the top players in the draft, but could fall due to the talent ahead of him. Teams could be interested in Obi Melifonwu and Jabrill Peppers before Baker (not to mention Jamal Adams and Malik Hooker), and Baker's small size and underdeveoped run defense could cause him to be the 5th safety taken. Will the NFL really take five safeties in the first 50 picks?
Alvin Kamara, RB, Tennessee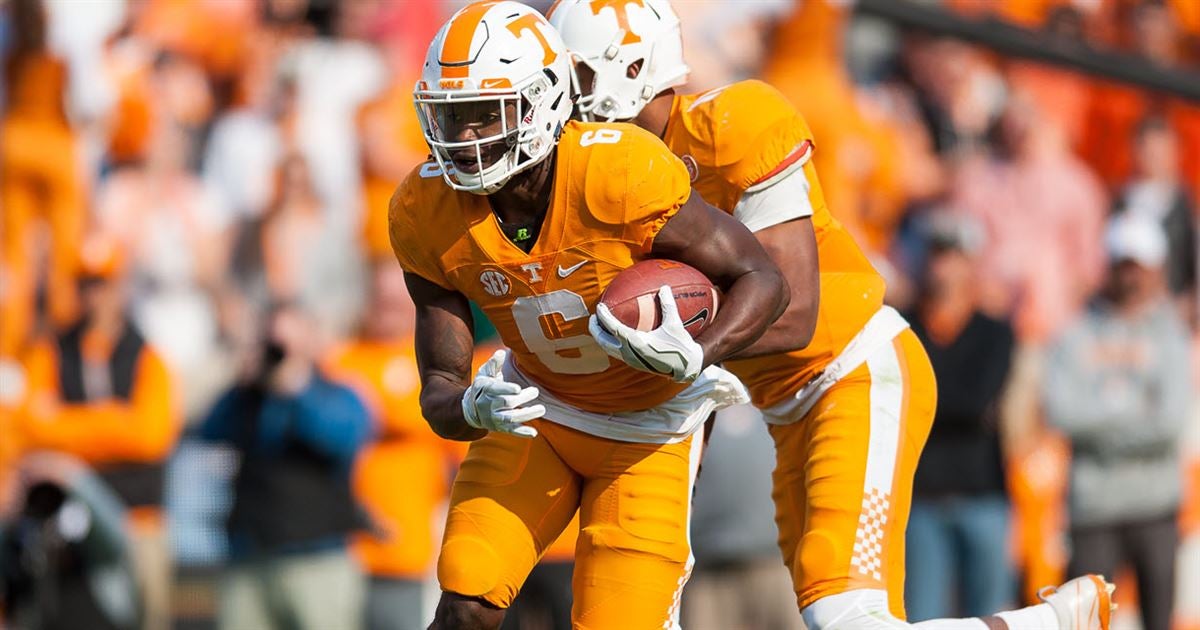 Kamara would be a bit of a reach at #48, but the Vikings have shown a high amount of interest in him, meeting with him both at the Combine and privately later. Kamara has elite short-area explosiveness and overall athleticism, which means he can "burst" through holes in the line (think of the way early career Adrian Peterson could fly through tight spots) and be elusive afterwards. In a deep class, Kamara falls behind McAffery, Fournette, Dalvin Cook, and probably Mixon, so if the Vikings want to add a playmaker on offense, he should be available. And it seems like they want to.
Kamara's tape may be an illusion, however. A lot of tape watchers, including Matt Waldman, have issues with Kamara's technique and decision making. At a certain point, the measurables and production come into question when Kamara does things that would drive coaches insane. Kamara has the physical tools to make defenders miss in the NFL, but could be a more "developmental" prospect. It's not what the Vikings need with a closing Super Bowl window, and considering the depth of the RB class (Perine, Hunt, Gallman, McNichols, to name a few), I'd prefer if the Vikings didn't fall in love with this intoxicating athlete.
Curtis Samuel, WR/RB, Ohio State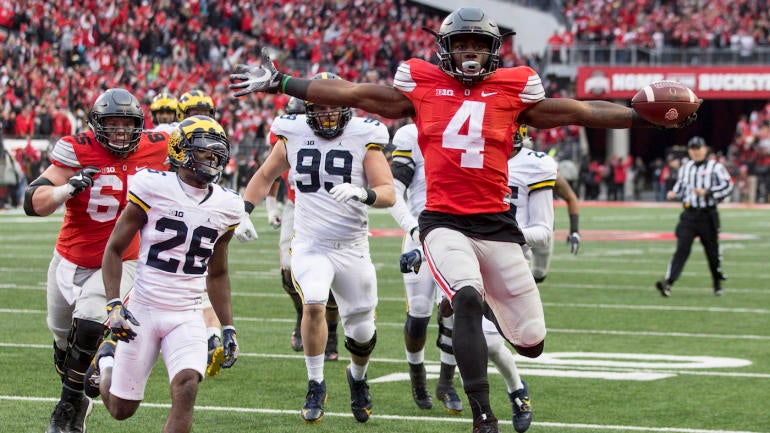 Since Adrian Peterson is gone, the Vikings lack an identity on offense (if we're being honest, they've lacked that identity for a while now). Curtis Samuel defined Ohio State's offense, showed elite explosiveness and speed and backed that up at the combine. His ability to line up all over the field provides a versatile weapon, which is incredibly valuable in a West Coast scheme. He also returns kicks, showing he can not only be a replacement for Cordarrelle Patterson, but also an upgrade (at least on offense). The Vikings used a top-30 visit on him, so they're clearly interested.
Samuel does struggle against press coverage, and therefore would be a limited option as an outside receiver. That limitation could send him below guys like John Ross or Corey Davis. Further, he has a smaller frame and an injury history, which limits his utility as an every-down back, knocking him below a guy like Leonard Fournette or even Joe Mixon. It's unlikely that he falls, however, so if he does, he could transform the blank canvas that is the Vikings' offense.
Pat Elflein, C, Ohio State
Elflein is the second Buckeye on the list (can you blame me?). Most outlets have Elflein as the best center in the draft, though he can play guard at a similar level. Behind Lamp and Feeney, he's one of the best interior linemen in the draft, with athleticism, technique, and mental aptitude to start right away in the NFL. The Vikings need day one starters, and Elflein would be one of them.
This may be the least exciting pick, as Elflein sits outside of the top 50 on several draft boards, but an instant starter at the position that derailed the team last year cannot be ignored. Should we see McDowell, Feeney, Samuel, Mixon, etc. snatched up ahead of the Vikings, Elflein should be there, and is yet another player the Vikings have shown express interest in.
Dorian Johnson – G, Pitt
If the Vikings absolutely must draft a lineman with their first pick and all of the above names are unavailable, Dorian Johnson would be the man. He's one of the top five interior linemen in an ultimately deep draft at that position, largely excelling in the run game. Johnson's incredible explosiveness and long reach make him a perfect candidate for an interior lineman, and should catch the eye of Tony Sparano. His violent push at the point of attack explodes off the tape. Johnson played right tackle at Pitt, but his short-area quickness makes him an excellent candidate to slide into right guard. The experience on the outside is useful, however, and provides the same versatility we get from Taylor Moton, should he be unavailable.
Johnson has some problems parsing angles with wider defensive sets (that is, when the defensive line is more spread out and rushes more upfield than inward). His pad level needs work, and sometimes loses leverage – something that NFL DTs can exploit play in and play out. Johnson has good height, but low weight and a poor 21 bench press reps. His explosive lower body will mitigate that, but it means his ceiling is probably the lowest on this list. The Vikings will go here if they want more run maulers, and don't like any of the defensive players or offensive skill players available. He'd be less likely to start day one, however, not as developmental as a T.J. Clemmings or David Yankey.
---
With only nine slots, there were undoubtedly some snubs. Here are some players I had to eventually cut from the list, and why I ultimately did it.
Caleb Brantley, DT, Florida – Brantley was on this list for a long while, but after an altercation materialized into misdemeanor charges 5 days before the draft, it appears is stock is going to fall well out of the 2nd round, if not out of the draft entirely. He's very similar to Shariff Floyd as a fast but undersized 3-Tech with a great burst off the line. Considering recent developments, as well as the lack of connection between Brantley and the Vikings, it's pretty likely he doesn't end up in Minnesota.
Duke Riley, LB, LSU – Riley's stock has become clearer to me as a 3rd or 4th round prospect. Look to him, or maybe a guy like Josh Jones to be a defensive boost in the 3rd round. Riley's sideline-to-sideline athleticism will no doubt be an asset for whoever drafts him, but he projects to be somewhat pigeonholed as a pass-covering LB exclusively. Riley's game is that of a nickel corner, but with the size of a linebacker. Considering the loss of Captain Munnerlyn, reducing the need to rely on the nickel package could be a huge boon.
Dion Dawkins, G/T, Temple – Dawkins only played the left side in college, and would require a position switch to fill in for the Vikings (lest we move Riley Reiff back to the right where he struggled). He also has a "lunging" issue with bad weight management during engagements. This lets rushers get easy technique wins, much like T.J. Clemmings.
Wayne Gallman, RB, Clemson – The Vikings will certainly draft a running back at some point. But the Murray signing, the depth of the class and the nature of their visits indicate that they are content to address that later (unless someone like Mixon falls in their laps).
Raekwon McMillan, LB, Ohio State – A truer MLB isn't where the Vikings are looking. They have Kentrell Brothers, who shows promise at the position, and Eric Kendricks' success at MLB lowers McMillan's value to the Vikings. While many have clamored for Kendricks to move to will and fill someone else in at mike, it seems unlikely that they'll change course after two successful years.
---
I find it hard to believe the Vikings would pass on McDowell, Feeney, Mixon, Baker or Samuel should one (or more) of them fall to #48. Moton, Brantley, and Elflein should all be available at #48, and fill pressing needs. Dorian Johnson is almost certain to be available when the Vikings pick, he fills a need, and matches the Vikings' tendencies – he provides a solid backup plan if the first 47 picks go disastrously for the Vikings.
Projecting a mid-2nd round pick is tough, but hopefully a strategic use of nine names can get me a cold beer on my dad's dime.
Thanks for reading!