For my inaugural piece on PurplePTSD, I've decided to write a three part project breaking down Head coach Mike Zimmer's approach in reclaiming the North and staying there. Each part of this project will feature one of our opponents in the Black and Blue and highlight why I feel that we are primed for a new reign of Purple and Gold.
Spoiler Alert: it's the defense. I highlight the defense.
I had originally started a piece that details Zim's success against Aaron Rodgers and alluded towards that match-up and the trend between the two as the chief reason for our ascension. So with that in mind, I felt it appropriate to start with those cheese wearing bastards.
It's a frustrating pill to swallow, but the facts and recent history are irrefutable: Green Bay is the team to beat in the NFC North.
I don't want to spell it out for you, but I will anyway. The Pack has won the division in five of the last six seasons and even when we unseated them in 2015-2016, it came down to week 17 of the season to determine the champ. Additionally, Green Bay has been to the playoffs eight times in a row, winning the Super Bowl during that streak, in 2010.
How do they keep going back? There are several nuanced reasons that I could spend the day highlighting, but in the interest of readability, I'll focus on just the major one. Allow my excellent GIF selection to paint a picture.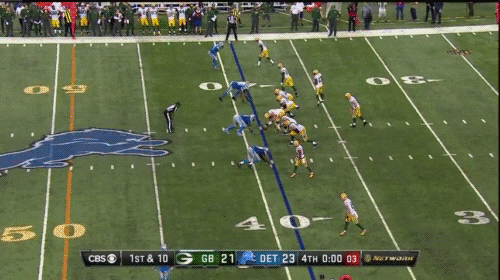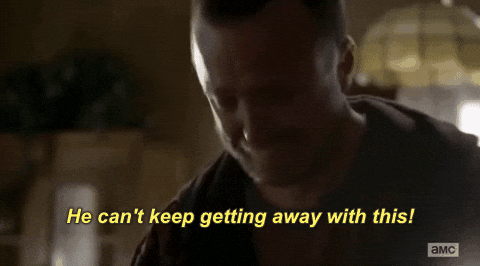 That's right, Mr. "Baaaaaaad Man" himself. Aaron Rodgers, on several occasions, has willed objectively mediocre Green Bay rosters into the playoffs and beyond. So it should come as no surprise that stopping or limiting him is the key towards sustained victories over our border rival. That's where I believe that we stand at least one (but in reality, more likely several) steps ahead of the rest of our Division.
While the rest of the North seems content fighting fire with fire, Spielman and Zimmer have done their part to stand out and usher in a new era in Vikings Defense. Whenever Zimmer has a roster full of players that he can mold to his system, he has caused havoc and confusion for opposing quarterbacks at all levels of talent. Below, I contrast Rodgers when facing a Zimmer-lead Defense (as either a Defensive Coordinator for the Bengals or as our Head Coach) against Rodgers' career stats and averages.
| | | |
| --- | --- | --- |
| | vs. Zimmer | Career Avgs. |
| W/L % | 50% (4-4) | 66% (93-49) |
| Completion % | 61.29% | 65.10% |
| Passing Yards | 241.6 YPG | 259.3 YPG |
| Times Sacked | 3.6 SPG | 2.4 SPG |
| Passer Rating | 96.41 | 104.1 |
Source: Pro Football Reference
They may not be as glamorous any of us would prefer, but they paint a picture and show the trend. As a technician of the widely used 4-3 defensive scheme (of which, he often employs a 1-gap variation and seldom uses the 2-gap variation), Zimmer's use of a wide array of blitz packages, bluffs, and stunts often leave opposing offenses reeling. In 2015, we saw Zimmer employ his variation of the 8-in-the-box "look" (though he's used 9 with success, too) where he brings his entire defense to the line of scrimmage. This tactic was primarily used on passing downs when there was no threat of the run and was largely successful.
What makes this so successful, especially against a future Hall of Fame quarterback is not what it shows, but rather what it hides. There is a lot that occurs prior to the snap of the ball on any given down. Quarterbacks read the defense at all levels looking for tells and signs of what's coming in order to better plan against it and have a play-of-gain or at the very least, win the down. Some examples of what happens prior to the snap include:
Calling the Middle Linebacker (also known as "Mike")
Reading Coverage (such as Cover 0, 1, 2, Tampa-2)
Whether Coverage is Man or Zone
Adjusting receiver route trees
Whether or not an audible is to be called
Calling protection schemes or packages for the Offensive Line
Successfully completing these tasks prior to the snap is crucial for offensive success, especially in today's pass-centric NFL. Zimmer excels in disguising or hiding this information from the offense with his bag o'tricks. By bringing seven, eight, or sometimes nine defenders on the line of scrimmage, a task made possible by having groomed most of his defensive players to more hybrid roles, it's often difficult to diagnose vital information.
Is a blitz coming? If so, which player(s)? Is the coverage Man or Zone? Who is acting Sam (strong side LB) or Mike? Will the play that was called work against the scheme? Not being able to answer these questions in the 30-second window before the play clock expires will give any offense a stroke. Our entire coaching staff (big shout-out to Vikings Defensive Line Coach Andre Patterson) along with Zimmer's expertise on that side of the ball has set our team up for consistent dominance in the NFC North.
A dominance that starts with containing Aaron Rodgers. Below, I chose two examples of when our defense pressed eight-in-the-box against Green Bay and discuss what happened on the play and why it was successful.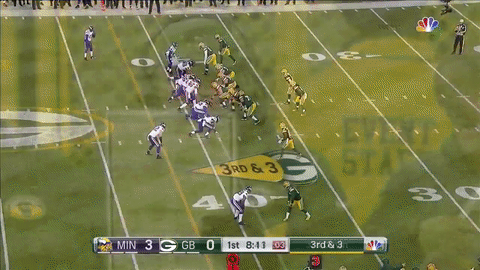 This was from week 17 of the 2015 season. As you can see at the start of third down, (third with three-to-gain) the defense stacks eight-in-the-box with seven men on the line of scrimmage. Newman, Rhodes, and Smith are all lined up against receivers, but showing Zone Coverage with a Cover 1 (Sendejo is off-screen in the Cover 1 scheme).
The playcall sends both wideouts on either a post route or deep route. The read that Rodgers is making from the defense shows that someone will back off from the LoS into coverage in the flat, against the slot receiver, but he doesn't know who that player will be, so he can't make the adjustment necessary, or target the receiver that he thinks will most likely be open. Additionally, you can see that a protection scheme was called that pushed Lacy into the interior line to pick up the blitz that Rodgers perceived.
After the snap, Barr and Kendricks collapse from the Double-A Gap (the space between the Center and Guard on either side) and drop into coverage, to pick up the slant route that was Rodgers second read. Meanwhile, Lacy is stuck in the backfield with his thumb up his ass due to having no one to block. By the time he realizes he needs to create a dump-option for Rodgers, Green Bay's pocket collapses and Aaron is forced to scramble and attempt to run for the first down. Speedy Kendricks is able to wrap his ankles while Hunter falls on top, short of the yard-to-gain.
And below, take a look at another example.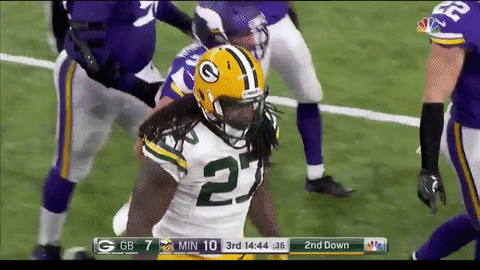 On the surface, this doesn't look like a great defensive play, but it only appears that way at first. I chose this particular play because it highlights another aspect of a Zimmer Defense that I love and I feel is undervalued or not noticed at all. Take a look at what happens when Andrew Sendejo, who originally shows as the Cover 1 free safety in the secondary while Harrison Smith shows a blitz on the weak side, switches with Smith prior to the snap (which occurred after Rodgers' initial read on the play).
Smith moves back into coverage while Sendejo runs to the LoS on the strong side, opposite Green Bay tight end Richard Rogers when the ball is snapped. While the play is a designed gap-run to the strong side which resulted in a first down, R. Rodgers panicked, as he wasn't prepared for the pressure and ended up committing a holding penalty. On the following play, A. Rodgers throws an incomplete pass, forcing Green Bay to punt.
That unnoticed or undervalued aspect of a Zimmer Defense that I love so much? It draws opposing penalties. A lot of them. The following week of last season, the Vikings faced off against Carolina at home. I wont go too in-depth here, but a similar situation caused an offensive penalty on Carolina, pushing them back to the goal-line that led to the Danielle Hunter Safety to turn the tide of the game.
Now, those of you more critical might ask why I highlighted that second play as the defensive stunt gave Richard Rodgers a panic attack, not A-A-Ron. As I said before, the play was a designed run on 2nd down and when A. Rodgers read the defense, he saw Smith's show of a blitz to the weak side. Being that the play that was called was a gap run to the strong side, Rodgers so no reason to call an audible or to hold the shovel toss prior to Lacy receiving it. Smith's and Sendejo's bait-and-switch occurred too closely to the play-clock expiring for Rodgers to successfully audible and the events that transpired lead to a punt and Viking possession of the ball.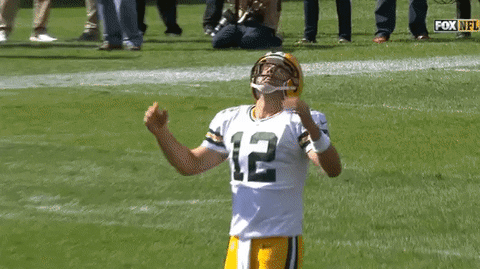 These are just two examples, out of many, of how our defense plays under our Head Coach. While Zimmer and Spielman continue to bring in talent that fits into Zim's system and our coaching staff can continue to develop them as they have, we will always be a threat to the North. Once things settle down on the offensive side of the ball, it wont be long until we become the team to beat within our Division. Go ahead, Detroit and Chicago, keep trying to go toe-to-toe with one of the greatest quarterbacks to play the game. We'll do just fine in developing ways to shut him down, instead.
For Part two of this three-Part series, I'll be breaking down defensive tactics we've often employed against Chicago and why they were successful as well as what to expect moving forward. Don't forget to visit the site regularly for updates on all things Vikings Football! Follow me on Twitter @DylanSAYSS for updates on all of my future projects!