After the 2016 & 2017 seasons, most Vikings fans would've considered Xavier Rhodes one of the top 5 corners in all of football…some maybe would've even considered him the best. Rhodes battled through some injuries in 2018 and posted a dip in production. Will he make the turn-around in 2019? Let's take a look at his opponents for the upcoming season.
Week 1: Julio Jones (Atlanta Falcons)
2018 Stats (16 Games)
113 Receptions, 1,677 Yards, 8 Touchdowns
Rhodes will be kicking off his 2019 season with arguably his toughest opponent that he'll face all year. Let's be optimistic…these two are very familiar with each other and Rhodes has had a lot of success against Jones in the past. In three match-ups with Rhodes, Jones has posted the following game logs…
2014: 6 Receptions, 82 Yards, 0 Touchdowns
2015: 5 Receptions, 56 Yards, 0 Touchdowns
2017: 2 Receptions, 24 Yards, 0 Touchdowns
Week 2: Davante Adams (Green Bay Packers)
2018 Stats (15 Games)
111 Receptions, 1,386 Yards, 13 Touchdowns
Things don't get any easier for Rhodes in week 2 when the Vikings travel to Green Bay, where the Packers haven't beaten the Vikings since 2016. Rhodes will look to improve off of last year's match-ups where Adams seemed to give him fits.
Week 3: Antonio Brown (Oakland Raiders)
2018 Stats (15 Games)
104 Receptions, 1,297 Yards, 15 Touchdowns
I know right? You have to be freaking kidding me! Julio Jones, Davante Adams, and Antonio Brown in the first three weeks of the season for Xavier Rhodes. Brutal! For those that don't know, Rhodes and Brown are actually child-hood friends…unfortunately we haven't had the pleasure of watching them go at it often. The most recent match-up came in 2017 where Brown caught just five balls for 62 yards in a win for his former black & gold, Steelers. In my opinion, Rhodes is kicking off his campaign this season against three of the top ten wide receivers in football.
Week 4: Allen Robinson (Chicago Bears)
2018 Stats (13 Games)
55 Receptions, 754 Yards, 4 Touchdowns
Is Allen Robinson on the same level as any of those guys listed above? Probably not. But he still constitutes as a threat. A big, physical receiver who is a nightmare match-up for any corner on 50/50 balls.
Week 5: Golden Tate (New York Giants)
2018 Stats (15 Games)
74 Receptions, 795 Yards, 4 Touchdowns
Whether or not Rhodes will be matched up on Tate remains to be seen in this game. The Giants don't have any big, physical wide-outs for Rhodes to shadow and their two primary targets are both receivers who make their living from the slot. Golden Tate is New York's best receiver but it wouldn't surprise me to see Rhodes/Waynes/Alexander each take their fair share of reps against Golden Tate & Sterling Shepard.
Week 6: Alshon Jeffery (Philadelphia Eagles)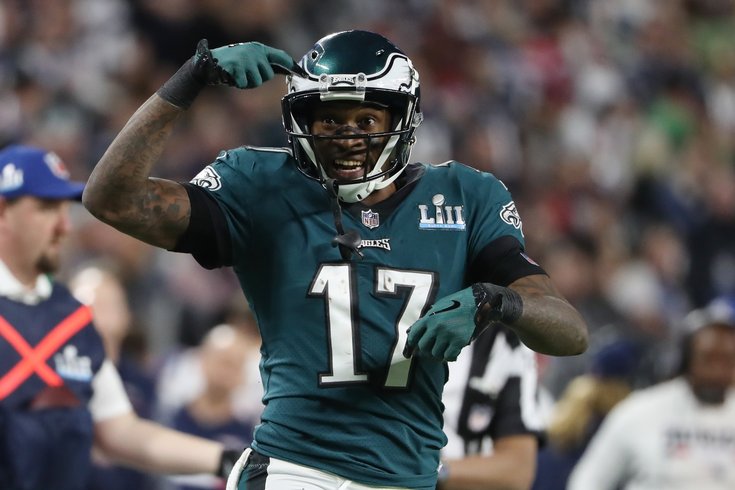 2018 Stats (13 Games)
65 Receptions, 843 Yards, 6 Touchdowns
I don't consider Alshon Jeffery to be one of the league's elite receivers, but for whatever reason Rhodes has had multiple occasions in which he has struggled covering the 6'3″ wideout. They've faced off against each other nine times in their careers and Jeffery has caught a touchdown against Rhodes in six of those games.
Week 7: Kenny Golladay (Detroit Lions)
2018 Stats (15 Games)
70 Receptions, 1,063 Yards, 5 Touchdowns
The primary match-up for Xavier Rhodes against the Lions since Calvin Johnson retired has been Marvin Jones, however I believe Kenny Golladay has already surpassed Jones as Matthew Stafford's #1 target. I would still expect Xavier Rhodes and Trae Waynes to share their fair share of reps against both Kenny Golladay AND Marvin Jones.
Week 8: Josh Doctson (Washington Redskins)
2018 Stats (15 Games)
44 Receptions, 532 Yards, 2 Touchdowns
The Washington Redskins probably have one of the weakest wide receiver corps in the league, in my opinion. Josh Doctson is the #1 target in the Washington offense and makes his money in the short/intermediate levels of the field, whereas the speedster Paul Richardson stretches it. We also have no idea who the man will be under center for the Redskins at this point in the season. Will it be Case Keenum…the former Vikings magician? Colt McCoy, Jay Gruden's apparent son? Or will it be Dwayne Haskins, Washington's first round selection from April's draft? Each presents different strengths that can effect Doctson's game greatly.
Week 9: Sammy Watkins (Kansas City Chiefs)
2018 Stats (10 Games)
40 Receptions, 519 Yards, 3 Touchdowns
I am going to go ahead and assume that Tyreek Hill will likely be suspended for this game due to his offseason drama that he has recently had regarding a child-abuse case. Sammy Watkins becomes the new primary wideout for Patrick Mahomes. Watkins is an excellent receiver when healthy but has had a hard time trying to do so.
Week 10: Amari Cooper (Dallas Cowboys)
2018 Stats (15 Games)
75 Receptions, 1,005 Yards, 7 Touchdowns
Amari Cooper found new life after being traded to Dallas last season. One of the games best route-runners should prove to be a fun match-up for Rhodes in 2019. They've faced off against each other just once in their young careers. In his rookie season, Cooper caught 5 balls for 79 yards against Rhodes.
Week 11: Courtland Sutton (Denver Broncos)
2018 Stats (16 Games)
42 Receptions, 704 Yards, 4 Touchdowns
Demaryius Thomas was traded away last season after the emergence of Courtland Sutton. Emmanuel Sanders could very-well be the guy Rhodes will shadow in this game but Sanders is much better match-up for Waynes, in my opinion. Sutton/Rhodes vice-versa. A 6'4″, 216 pound wideout is a much better mirror for a bigger corner like Rhodes.
Week 12: BYE
Week 13: DK Metcalf (Seattle Seahawks)
2018 Stats: N/A
Similar to the the Denver game, this is another match-up where it makes much more sense for Rhodes to not necessarily cover the opposing teams best receiver (Tyler Lockett) but the bigger physical presence.
Trae Waynes=Tyler Lockett.
Xavier Rhodes=DK Metcalf.
Week 14: Kenny Golladay (Detroit Lions)
Week 15: Keenan Allen (Los Angeles Chargers)
2018 Stats (16 Games)
97 Receptions, 1,196 Yards, 6 Touchdowns
This is probably the match-up I am most excited about. Keenan Allen is one of the most underrated receivers in the league and his combination of size and route running skills should prove to be a big challenge for Rhodes late in the season.
Week 16: Davante Adams (Green Bay Packers)
Week 17: Allen Robinson (Chicago Bears)
Which match-up are you most excited to watch this upcoming season? Leave your comments below!