Wow. It's been quite the week for all things Vikings and instead of inundating the site/you guys with article after article about news that broke on Monday, I thought I'd summarize everything in one article and share my opinion on each at the same time. I do apologize for not having this stuff up earlier in the week, but I caught the flu (Again) and found it hard to keep up with all the breaking news tweets while dry heaving into a bowl.
So, without further ado… Let's do this thang… Ugh… Instant regret… If only my backspace button wasn't so far away.
1) The Salary Cap…
As we all know, Adrian Peterson's $18 million dollar option wasn't picked up by the Vikings Tuesday, allowing the 32 year old running back to test the free agent market before potentially returning to the Vikings at a reduced rate (Or somewhere else, like the Giants, See Below). That's the hope, for some, anyway. Regardless, the release of Peterson almost coincided with the NFL releasing the 2017 salary cap information/levels. With Peterson's contract coming off of the books and the cap increasing due to increased revenues, the Vikings now have $40 million dollars (Or $38 million in some estimates) in cap space to play with before the season begins.
That's a decent chunk of change and will allow the Vikings to make some significant moves. Specifically on the offensive line. Like I said in another article, I really hope that the Vikings land Russell Okung, who I believe would elevate the offensive line to a pretty decent level by himself while also, perhaps, saving some money in the process (As he could end up being cheaper than current Vikings left tackle/liability Matt Kalil). There's also the hole (Pun?) left by Peterson himself, meaning that the Vikings need to find a replacement for the future Hall of Fame running back (Unless Bill Polian has anything to say about it…).
That hole leads to the second update of today's piece… Latavius Murray…
2) The Vikings Show Interest in Latavius Murray… 
According to a report on the Viking Age, the Vikings are interested in the young and talented back from the Oakland Raiders (Coincidentally a potential landing spot for Adrian Peterson). Murray, while not the game breaker that Peterson is/was, makes up for it as he is a much more well rounded back than Peterson is. He's a top four "Blocking Running Back", per Pro Football Focus, for example… While Peterson couldn't block a… Lego?
Top-graded pass-blocking RBs:

Jonathan Stewart, 85.3
Robert Turbin, 85.1
Rashad Jennings, 83.5
Latavius Murray, 83.5
DeMarco Murray, 82.4

— Pro Football Focus (@PFF) February 10, 2017
That means that he can play all three downs, something that Peterson struggled to do as he, for some reason (at 6'2″ and 225 lbs.) couldn't (Or wouldn't) block/pick up blitzes. Murray is actually bigger than Peterson, as well, at 6'3″ and 230 lbs. which would help offset the talented but overwhelmed Jerick McKinnon by allowing him to become the change of pace back he was always meant to be.
Now, Murray may end up costing a pretty penny, and if it comes down to signing him or bringing in someone like Okung, I think the choice is pretty clear. But, with $40 million to play with and most "High-end" running backs getting contracts in the $6-$8 million dollar per season range (Or less, actually), I can't imagine that Murray would break the bank or prohibit the Vikings from making another large move, or two.
3) Birds… 
According to three conservation groups the newly minted and almost pure glass exterior of US Bank Stadium is apparently some sort of bird murdering monstrosity. Now, this was something that people were concerned about before the stadium was finished, and if I recall correctly, they attempted to limit the amount of bird murder during the construction (By banning Windex?). Whatever they did do, it clearly didn't work as the US Bank Stadium now is the leading bird killer (As far as buildings go, lord knows that the biggest killer of birds is feral cats… *Cue Debbie Downer Music*) in the city of Minneapolis.
The conservationist group found over 60 dead birds and 14 more "Stunned" birds during their 11-week investigation. Jim Sharpstein told City Pages:
"We knew that the glass would be highly confusing to the birds, they see a reflection of a blue sky in the glass, they think it's a blue sky. They see reflections of trees, they think they can land in those reflections of trees. This confirmed what we already believed would be bad."
While some people don't think that this is a big deal, it kinda is. Some reports claim that somewhere between 500 million to a BILLION birds are killed annually in the United States by flying into glass. So, while the articles about US Bank Stadium and it's bird problem don't really lay out what can or will be done to correct this issue, it's clearly something that needs more investigation… Also, I'm sure there's an Eagles, Cardinals or Falcons joke in there somewhere, so feel free to use that in the comment section below…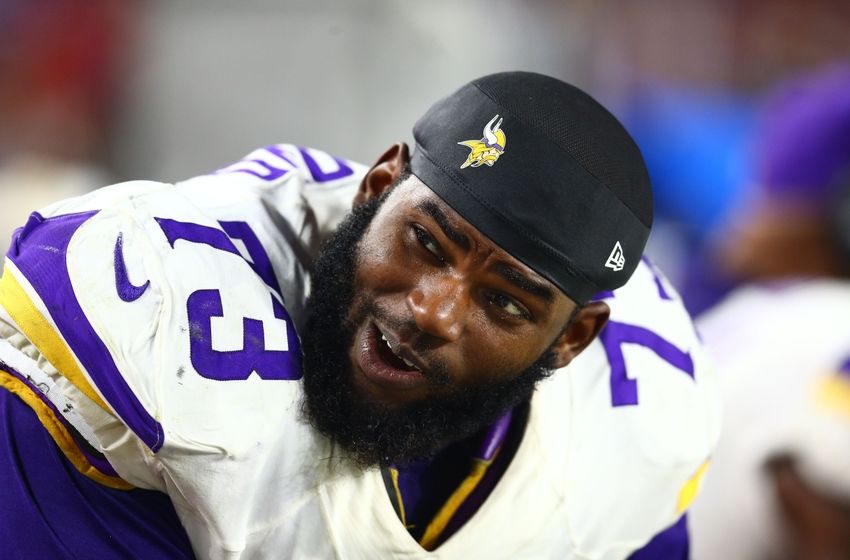 4) Sharrif Floyd is "Sticking Around"… 
According to this Tweet (Which links to an article):
As a deadline nears, it looks like Sharrif Floyd will be sticking around in 2017. https://t.co/gnd9mAIpB8

— Matt Vensel (@mattvensel) March 1, 2017
It appears that underrated defensive lineman and perpetual coach Zimmer's dog house inhabitant, Sharrif Floyd will be a Viking in 2017. Now, this may come as a surprise to many, as it was widely considered that Floyd's time as a Viking was over after a 2016 season where he struggled to make it to the field thanks to injury. While his game's played number doesn't look awful, he has often left games with injury and it is believed that Zimmer has grown tired of his inability or reluctance to play through injury.
I, personally, like Floyd. He's a great pass rusher and he compliments Linval Joseph to a T. He's not the run stopper than Sharmar Stephen is, but that's why you have both (And why he fell to the Vikings in the 20's during his year's draft… Small arms, they said). Also, by retaining Floyd the Vikings can continue to focus mostly on the offensive line and running back positions in free agency and the draft. Considering the amount of money that they do have to spend, they could end up really, really going for it. Which excites me.
5) The Offensive Line and Spielman… 
Speaking of spending money and me being excited… Now, this was already covered in depth by Joe Oberle… But I wanted to touch on something I've touched on a few times in this piece. The offensive line. Now, check out this amazing tweet about Spielman's plan for rebuilding that line…
https://www.twitter.com/kfan1003/status/836983437563211776
(Apparently this Tweet is now dead, but it said: Spielman on O-Line: "We're not going to take our time. We'll as aggressive as we can, whether in free agency or draft.")
I just wanted people to be aware of this.
As we all know the line was a disaster in 2016 and while the Vikings did spend a decent amount (At one point in 2016 over 25% of the salary cap was invested in the offensive line) for older, semi-washed up players (Jake Long, Andre Smith), they did find a decent piece in Alex Boone. Now, Boone plays best when he has a talented tackle next to him (Duh) and spoke about this in a City Pages piece a few months ago. Bringing in a top tackle like Russell Okung could make the left side of our line not only no longer a liability (Sorry, T.J. Clemmings) but perhaps one of the better units in the league.
The idea of Sam Bradford having time to drop back and analyze his progressions while being able to dump the ball off to someone like Murray, is awesome. As many people believe, including me, the Vikings are a decent to good offensive line away from being a real contender. It looks like Spielman understands that is going all-in to make that happen. I can't wait to see what he does…
Bonus: Peterson to the Giants?
With the news that the Vikings would not pick up Adrian Peterson's $18 million dollar option, ESPN has been having a field day discussing potential landing spots for the future Hall of Famer. Here's a post by Ed Werder, discussing the "Best" landing spots for the 32 year old back…
Coaches with #Vikings believe @AdrianPeterson can still be highly productive. Best team fits #Seahawks, #Patriots, #Broncos, #Cowboys, #NYG

— Ed Werder (@Edwerderespn) February 28, 2017
Apparently one of the teams that Peterson has apparent interest in (Based on a Tweet from about a week or so ago) also is going to at least kick the tires that is/are Peterson. Giants head coach Ben McAdoo (Who may have one of the worst names in coaching history) said that he'd "Take a look" at Peterson joining the Giants. Whatever that means.
The Giants been making some interesting moves.

— Adrian Peterson (@AdrianPeterson) February 16, 2017
I assume it means they'll reach out to Peterson's agent to see what he's looking for both financially and in terms of the team, offense and role he'd play on both. Peterson demands a lot of carries and some say an offense that is completely focused on getting him the ball. While that's mostly unfair, if you ask me, because Peterson has only really had a couple years where he had good quarterback play and thus he needed to carry the entire offense, as opposed to him wanting to do the same.
So, I for one would love to see Peterson in an offense that can move the ball through the air. The Giants have Eli Manning and perhaps the best wide receiver (Or at least the 1B receiver, after Antonio Brown and maybe Julio Jones, so 1C) in the league in Odell Beckham Jr. Their offense would also be a good fit for Peterson, as they did rely on a power rusher in Rashad Jennings (Something Peterson noted in that Tweet) in 2016 and could use someone like Peterson to help move the chains and control the time of possession and clock in general.
So. It'll be interesting to see where Peterson ends up. Hopefully it'll be an AFC team, but it's looking more and more like it'll be someone in the NFC. If he does end up in Green Bay, though, I will say that while it wouldn't be as devastating as the Favre move was for their unwashed fans, they'd still pretend like it was and that'd drive me crazy. So, I'm rooting for the Giants, I guess.