Click here for Original Article: http://bleacherreport.com/articles/2581158-minnesota-vikings-week-7-stock-report/page/8
A 16-10 win over the Kansas City Chiefs improved theMinnesota Vikings' record to 3-2 in 2015. A trip to Detroit to play the 1-5 Lions now awaits the Vikings in Week 7.
Minnesota hasn't been 4-2 since 2012, the last time the franchise made the postseason.
In the following slides, we'll look at the risers and fallers ahead of the Vikings' matchup with the Lions.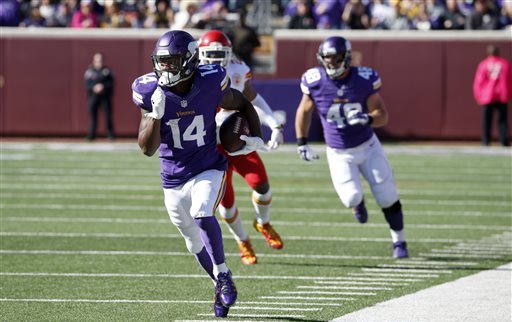 Rising: WR Stefon Diggs
Rookie receiver Stefon Diggs showed Sunday he's no one-week fluke. After catching six passes for 87 yards in his NFL debut in Denver, Diggs came out of the bye and had a career-high seven catches and 129 yards against the Chiefs.
Kansas City cornerbacks couldn't handle him. Diggs generated huge separation with quicks and good ol' fashioned route running, giving quarterback Teddy Bridgewater a handful of easy throws in the first half. He also nearly broke a screen pass for a touchdown, and his 30-yard catch late in the fourth quarter might have saved the game for the Vikings.
Minnesota has an emerging star on its hands in Diggs, a fifth-round pick in this year's draft. He's already third among rookies in receiving yards, and it wouldn't be a surprise if he took Amari Cooper—the fourth overall pick—all the way to the wire for the top spot.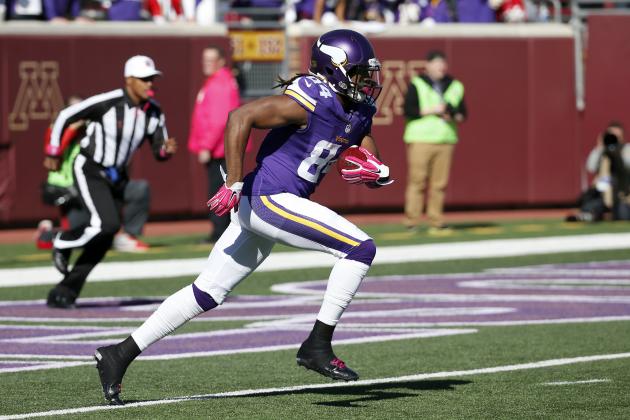 Falling: WR Cordarrelle Patterson
The emergence of Diggs is salt in the wound for Cordarrelle Patterson, a former first-round pick who the Vikings believed had the ability to develop into an NFL-quality receiver. It isn't happening. It may never happen in Minnesota.
He's now nothing more than a special teams player.
According to Pro Football Focus, Patterson played just seven offensive snaps against the Chiefs, and five were run plays. His opportunities will likely decrease further once receiver Charles Johnson returns from injury. At that point, the Vikings might need to make a decision: Is Patterson's ability on kick returns enough to keep him active on game days?
He has returned just nine kicks in five games, with a long of 33 yards. Amazingly, the No. 29 overall pick in 2013 may no longer be worth an active roster spot on game days.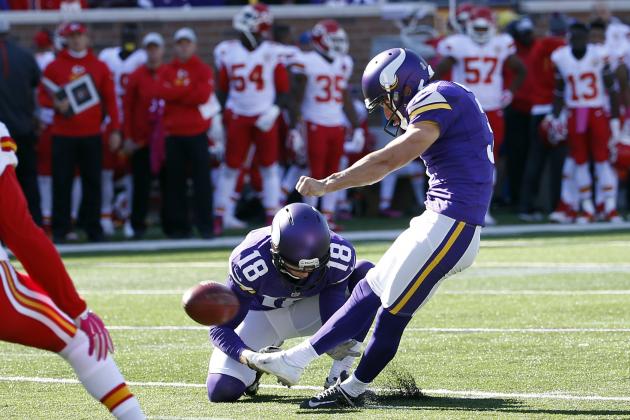 Rising: K Blair Walsh
Confidence is everything for a kicker, and it finally looks like Blair Walsh has revived his. The Vikings kicker has made five straight field goals, including all three of his kicks against the Chiefs on Sunday.
Walsh had missed at least one kick (extra points included) in nine of his last 13 games, including the preseason. A mistake-free afternoon was just what the doctor ordered. Walsh's 10 points—three field goals and an extra point—were vital in Minnesota's six-point win.
The hope now is that Walsh will start to stack his successes. One game is just one game, but it's certainly possible Sunday will mark the beginning of Walsh's restoration as one of the NFL's best young kickers.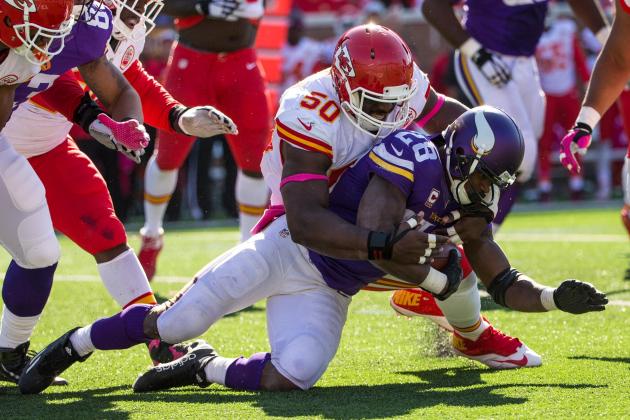 Falling: Vikings Offensive Line
The Vikings offensive line did an admirable job of keeping Teddy Bridgewater upright against the Chiefs, especially with Justin Houston and Tamba Hali attacking off the edges. Still, Bridgewater was under pressure on 13 of his 32 dropbacks, per Pro Football Focus. He completed just three passes with an interception on those snaps.
The bigger issue for Minnesota was in run blocking.
Adrian Peterson carried 26 times for just 60 yards. He had 19 attempts gaining three or fewer yards, and 23 of his 60 yards came on one run in the second half.
Head coach Mike Zimmer had reasons for the struggles in the run game. One was simple: Kansas City ran successful run blitzes. The other was on his line. Zimmer said Monday, per Vikings.com:
I think in some of the runs – and they tightened their linebackers up a little tighter than they normally play –  and I think some of the times we tried to help other guys a little bit too much instead of – hey, that's my guy, I've got to block him, but I'm going to make sure that I nudge this guy, or hang on this guy and not get up to where my guy is. Those are all things that I think they're all correctable.

Rising: Defensive Rookies

The Vikings started first-year players at both linebacker and defensive end and still managed to hold Kansas City to just 10 points.

Second-round pick Eric Kendricks was all over the field during his second career start, registering a game-high 10 tackles. He sacked Alex Smith to end one Kansas City drive and halted another when he knifed into the backfield to chop down the running back on 3rd-and-short.

Third-rounder Danielle Hunter was an emergency fill-in for Everson Griffen at defensive end. He combined with Sharrif Floyd for a sack and forced a fumble late in the fourth quarter to help preserve Minnesota's six-point lead.

"I thought he did some really good things," head coach Mike Zimmer said of Hunter, per Vikings.com. "He's very athletic, he had a couple of nice rushes."

Even first-round pick Trae Waynes played a handful of snaps at cornerback.

Why the early success for Minnesota's rookies? Zimmer said:

I think they're good players, number one. I tend to not look at guys as rookies, I tend to look at them as Viking players and their expectation is no different than anybody else. But one thing that I do think is important is all of these guys that are playing, they're all pretty smart guys and so that allows them to get on the field a little bit sooner.

Falling: RB Jerick McKinnon

As a rookie, Jerick McKinnon had 140 total touches and led the Vikings in rushing yards (538). Through five games in 2015, the sophomore back is hardly part of the Minnesota offense.

McKinnon was given just one carry for two yards against the Chiefs. He's now up to 14 carries and two catches for 22 total yards, putting him on pace for roughly 45 touches and 70 yards this season.

McKinnon's decline in usage was expected with Adrian Peterson back. Few, however, expected him to be a complete non-factor. It won't help that Matt Asiata carried five times for 27 yards and caught one pass for eight more against the Chiefs.

Rising: DT Sharrif Floyd

S

unday was one of Sharrif Floyd's best games as a Viking.

The former first-round defensive tackle was a dominant force, tallying a half-sack and four tackles. According to Pro Football Focus, he had six total quarterback disruptions, and one of his "stops," or tackles constituting an offensive failure, came on fourth down with the Chiefs inside the Minnesota 10-yard line.

His grade for the week (plus-4.3) was the third highest among defensive tackles and nose guards in the NFL.

Less thinking and more reacting powered the performance, according to Zimmer, per Vikings.com:

He's a better player when he just lets it loose and that's what I want him to do. … Sometimes guys, they want to be perfect all the time and sometimes you've just got to cut it loose a little bit and I think that's him in general. He's a great kid and if he will react as opposed to think so much, I think that he will continue to get better.

http://bleacherreport.com/articles/2581158-minnesota-vikings-week-7-stock-report/page/8