The Minnesota Vikings are coming off of a fairly convincing 26-16 victory over the Detroit Lions and will face a similarly constructed San Diego Chargers team this Sunday.
San Diego and Detroit differentiate in talent, but the skill sets and "designs" of their offensive weapons are very similar. Here's a head-to-head look comparing the two team's offenses:
| | | | |
| --- | --- | --- | --- |
| Position | Chargers | Lions | Skill Set |
| QB | Philip Rivers | Matthew Stafford | Big-arm QB |
| RB1 | Melvin Gordon | Joique Bell | Early-down RB |
| RB2 | Danny Woodhead | Theo Riddick | Pass-catching RB |
| WR1 | Keenan Allen | Calvin Johnson | Big, athletic WR |
| WR2 | Stevie Johnson | Golden Tate | Quick, slot WR |
| TE | Ladarius Green* | Eric Ebron | Big, athletic TE |
*Starting tight end Antonio Gates is serving a suspension for violating the league's substance abuse policy.
There is obviously a talent differential between these players, as two players are the exact same, but the way they are utilized within their specific offenses is very similar. The only major difference is at tight end, but this is only because Gates is unable to participate in this weekend's game.
While the Chargers (3-4 base) and Lions (4-3 base) utilize different base defense formations, their secondary's are similar in terms of what they are asked to do and the physical matchup they force offense's to adjust to.
| | | | |
| --- | --- | --- | --- |
| Position | Chargers | Lions | Skill Set |
| CB1 | Brandon Flowers | Darius Slay | Undersized No. 1 CB |
| CB2 | Jason Verrett | Rashean Mathis | Different |
| FS | Eric Weddle | Glover Quin | Ball hawk FS |
| SS | Jahleel Addae | James Ihedigbo | Run-stopper SS |
This high volume of similar personnel both on offense and defense argues in favor of Mike Zimmer and Norv Turner utilizing similar packages game plans in Week 3. However, the dispersed talent will force a few changes to what proved to be a pair of successful Vikings game plans in Week 2.
Itinerary
Who are we dealing with?: This is a new section in weekly Vikings game plan article series where we'll take look at the opposing team's coaching staff. This week, we'll spend some time getting to know Mike McCoy (HC), Frank Reich (OC) and John Pagano (DC).
Offensive game plan: We'll take a look at tight end Kyle Rudolph's influence this weekend, take a brief look at a matchup advantage for wide receiver Charles Johnson, touch on Adrian Peterson and look into rookie linebacker Kyle Emanuel in a brief film analysis.
Defensive game plan: We'll take an in-depth look at the Zimmer "Double-A Gap Blitz Formation" and how it applies this weekend as well as what elements of the Chargers offense could be most threatening.
Four key players (2 Vikings, 2 Chargers)
Score prediction and brief explanation.
Who Are We Dealing With?
Jeff Haynes/Associated Press
Mike McCoy, Head Coach
The Chargers hired McCoy as their new head coach in early January 2013. He has 17 years of coaching offense at the NFL level—and he is only 43 years old.
McCoy got his first big break back in 2000, when then-Carolina Panthers head coach George Seifert hired him as his quarterbacks coach. McCoy spent nine years coaching in Carolina with eight spent in his originally hired position, part of two years as the team's passing game coordinator and one as a wide receivers coach.
His greatest achievement with the Panthers was playing a key role in quarterback Jake Delhomme's development, which led to a Super Bowl appearance. But McCoy's real accomplishment in Carolina was earning an offer from the Denver Broncos to be their new offensive coordinator.
The now-head coach held the offensive coordinator position in Denver from 2009-12. After helping quarterback Kyle Orton put together the best season of his career, McCoy was involved with head coach Josh McDaniels in creating the "Tebow offense."
With Tim Tebow at the helm and a revitalized Willis McGahee in the backfield, McCoy's Denver offense earned the nod as the top rushing offense in the NFL. Showing his talent in play design and proving his versatility, he added the No. 1 passing offense the very next year withPeyton Manning as his quarterback with an offense that attacked defenses in a completely different way.
McCoy (17-15) has long been known as an innovative, genius offensive mind. In two years with the Chargers, he has reached the playoffs in both years. He and the Bolts have higher goals this year and appear more than capable of achieving them.
Frank Reich, Offensive Coordinator
McCoy's right-hand man is current offensive coordinator and former quarterback Frank Reich. Reich played 14 NFL seasons at the quarterback position, but he was almost exclusively a career backup.
San Diego's head coach takes care of the team's offensive play-calling with Reich being in charge of signals.
Reich began his coaching career as an assistant for the Indianapolis Colts in 2008, and his success earned him an upgrade to quarterbacks coach. He also spent the 2012 season with the Arizona Cardinals as a wide receivers coach before being named to the same position under McCoy.
He was promoted to offensive coordinator in 2014, being pivotal to San Diego's ability to "do more with less" and reach the playoffs.
John Pagano, Defensive Coordinator
Defensive coordinator John Pagano has seen it all in San Diego, as he has been with the team for over a decade after being hired in 2002 at the quality control position. He coached linebackers in an assistant capacity for two years before being named the team's linebackers coach, a tenure that stretched from 2005-11.
After many years of coaching linebackers, now-Vikings offensive coordinator and then-Chargers head coach Norv Turner hired Pagano as his defensive coordinator. He has shown an impressive ability—like McCoy—to coach both pass and run defense well. He earned the No. 3 run defense in the NFL spot before having the No. 4 ranked pass defense.
Pagano tends to sit back and allow his defense to make plays instead of forcing them but still remains a creative mind on his side of the football, which we will see more of later on.
Offensive Game Plan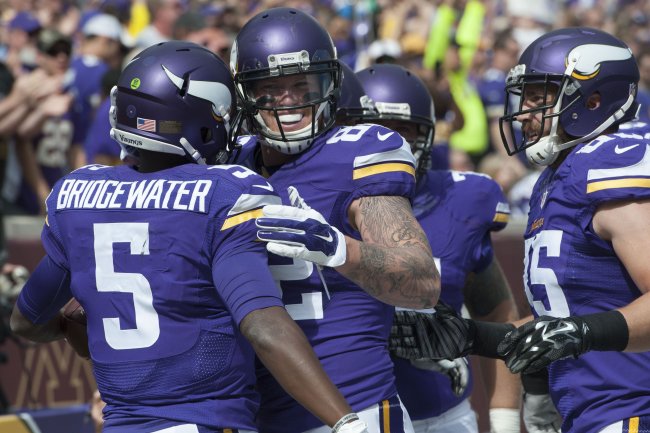 Tom Dahlin/Getty Images
As always, this offense lives and dies with running back Peterson. He likely will not be receiving 29 rush attempts and two targets (31 touches) for a second consecutive week.
It should be another strong week for the 2012 MVP, as the Chargers have been dreadful at defending against the run—San Diego allowed 123 rushing yards against Giovani Bernard and 39 more to Jeremy Hill. The Chargers simply have not been consistent enough on defense early in the year.
Peterson's ability to run successfully should open up the game plan for Rudolph, who will spend Sunday's afternoon contest running circles around former Notre Dame Irish teammate Manti Te'o.
Te'o has been targeted seven times this season, allowing six to be complete for a total of 89 passing yards and a touchdown (via Pro Football Focus). Oddly enough, the former Irish linebacker has yet to be successful in pass coverage after totaling 28 interceptions in four years at Notre Dame.
Furthermore, Rudolph is 5 inches taller and considerably bigger from a strength and length standpoint. Sunday's matchup will be a challenge for most players, but the Vikings tight end should have little issue doing as he pleases against Te'o.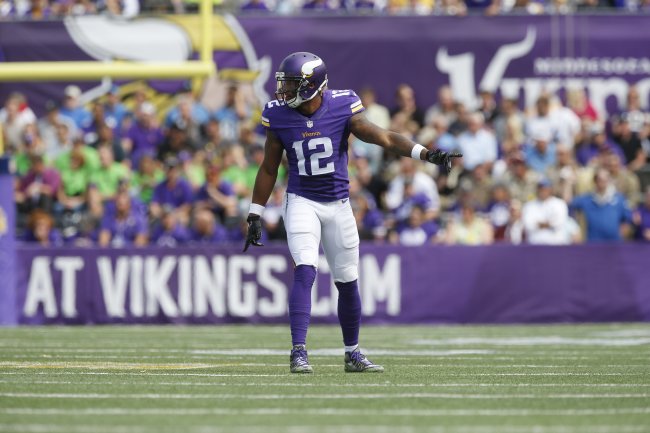 Jim Mone/Associated Press
The Vikings offense hasn't been throwing the ball much through two weeks, but it still seems odd that wide receiver Charles Johnson has only made two catches for 35 yards so far this season.
It's no secret that Turner is going to run the ball a lot, but he should be able to find Johnson open this week due to his physical advantage. San Diego cornerbacks Flowers and Verrett both stand at 5'10" or below. Johnson, on the other hand, is a 6'2″ wide receiver with plenty of gifted athleticism.
Johnson hasn't proven himself to be a physical wide receiver to this point in his career, but he'll have at least 4 inches in height on both of San Diego's top cornerbacks.
In addition, don't be shocked to see Mike Wallace catch his first deep ball this week, as Minnesota may be forced to run the deeper route combinations in Turner's vertical offense if San Diego puts up points as it is capable of doing.

Credit: NFL Game Pass
One of the players that could give Teddy Bridgewater and Minnesota a headache is the fifth-round rookie linebacker Emanuel. The red circle in the above screen shot highlights him.
According to Pro Football Focus, Emanuel owns the second-highest total of pass-rushing attempts among players not listed as defensive lineman on the San Diego defense.
Emanuel has rushed the quarterback 24 times in 55 total snaps, which amounts to roughly 44 percent of his snaps. In addition, he has dropped back in pass coverage only eight times (14.5 percent), so it seems very clear what his objective is when placed on the field: He is there to get after the quarterback.
This particular play took place during Week 1 and occurred on 3rd-and-4. As noted by the caption of the diagram, San Diego is showing a Double-A Gap Blitz formation, which should be familiar to Vikings fans.
Emanuel—our player of emphasis—is lined up with his hand in the dirt on the right side, linebackers Te'o (No. 50) and Donald Butler (No. 56) are hovering over the two A gaps, and there is an orange arrow pointing at linebacker Melvin Ingram (who is highlighted due to leading the Chargers with 43 pass-rushing snaps; he's another player to keep an eye on).

Credit: NFL Game Pass
As Stafford drops back to pass, both Te'o and Butler fall back into pass coverage, making the formation nothing more than a disguise to confuse the Detroit offense. These disguises tend to have a powerful impact in the NFL, as offenses has to account for the potential of multiple extra pass-rushers.
The Double-A Gap Blitz formation is very simply defined. Two players (typically linebackers) set up shop in the A gaps, or the spaces to the left and right of the offensive center. It is a formation typically used in 3rd-and-long situations with the intention of confusing the offense and creating a mistake.
This is the perfect example of a mistake created: Four offensive lineman gravitate to one Chargers defensive lineman, leaving Emanuel unblocked around the edge with Stafford yet to notice that the train is coming.

Credit: NFL Game Pass
The disguise works to perfection, as Emanuel drills Stafford in the backfield for a 13-yard loss and a fourth-down situation. Pagano and Emanuel achieved this despite rushing only two players, with Ingram, San Diego's most frequent pass-rusher, drawing over half of Detroit's protectors over to him.
There are a couple of takeaways from this. First of all, keep an eye on Emanuel when he's on the field, as he has been used in a very one-dimensional role through two weeks. As it applies to the Vikings, it will be interesting to see how the offense reacts to Emanuel snaps, as simple math determines that he is on the field to get after Bridgewater nearly half of time—as opposed to being used often in pass coverage or as an asset in run defense.
Pagano is sneaky and deceptive. He isn't a frequent blitz caller (relative to the rest of the league), but his defensive personnel packages force offenses to respect the possibility that he might send extra pressure during expected passing situations.
Defensive Game Plan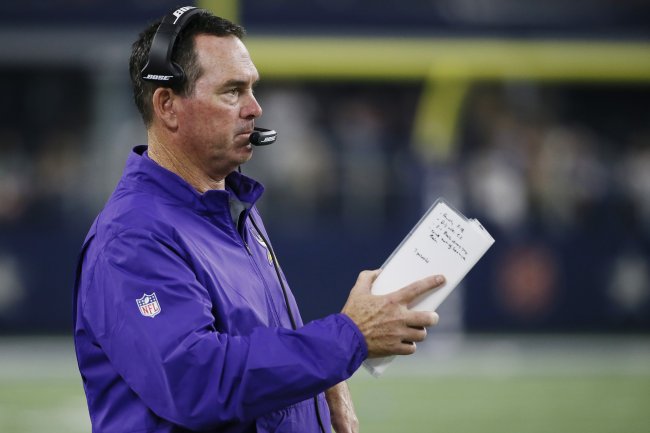 Tony Gutierrez/Associated Press
Now that we have seen how Pagano utilizes the Double-A Gap Blitz formation, it's time to take a look at Zimmer's variation. As noted earlier, the San Diego offense likens to Detroit, which Minnesota's head coach elected to call a number of these formations against.
However, the Chargers' interior line has been very subpar so far this year—left guard D.J. Fluker being the exception—making them even more susceptible to being beaten by this blitz formation.
Both Chris Watt and offseason signee Orlando Franklin have struggled mightily this season, allowing 19 total pressures and two sacks between just the two of them (via Pro Football Focus). Here is a prime example of how Zimmer may exploit this interior line weakness.

Credit: NFL Game Pass
This play occurred early in the first quarter of Minnesota's Week 2 matchup with the Lions. It ultimately did result in a 19-yard completion to Tate when Captain Munnerlyn lost coverage with the Vikings bearing down on Matthew Stafford, but it's the formation and style that is more the point of emphasis here.
Set up with nickel personnel, linebackers Anthony Barr and Eric Kendricks line up in the A gaps, with Harrison Smith slithering into the box as in a strong safety role on the left side of the formation.

Credit: NFL Game Pass
As the play begins to develop, Kendricks drops back into coverage, which puts running back Bell in an odd position while determining who to block. Again, this formation keys on confusion, taking advantage of mistakes created by the variety of looks this blitz has the potential for.
Two offensive linemen swallow up Barr, but Smith remains in the box, slightly hidden behind Barr.

Credit: NFL Game Pass
It certainly doesn't look like this play is about to go for nearly 20 yards from this angle. Kendricks, who was originally lined up in the right side's A gap, was faking a drop into pass coverage, which forces Bell to lose his feet from under him while sprawling to get back into position.
Barr comes clean with his eyes set on Stafford, as Smith drew in one-too-many blockers—a product of the element of confusion that continues to be be a factor here.
Stafford is ultimately going to slide to his left and deliver a great completion to Tate, silencing Zimmer's blitz effort for the time being. Damage was done, however, as both Kendricks and Barr barreled into Detroit quarterback just as he released the ball.
Now, let's try a second look at the same formation and place even more emphasis on the deceptiveness factor, given this play came much later in the game and Detroit had to account for looks it had already seen.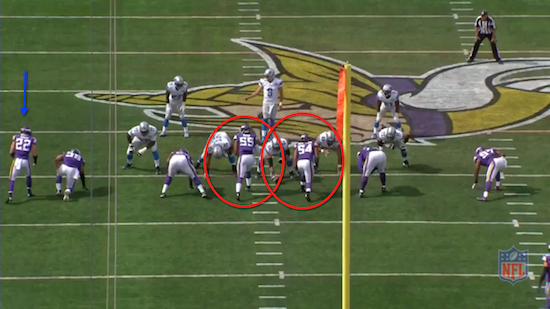 Credit: NFL Game Pass
The pre-snap look for Stafford appears to be very similar with a few slight modifications. Barr and Kendricks have switched gaps, and Smith is lined up on the opposite side.
Now, watch what Zimmer does just as Stafford snaps the ball—forcing him to make a split decision on what to do, while also hoping his linemen can make these decisions just as quickly.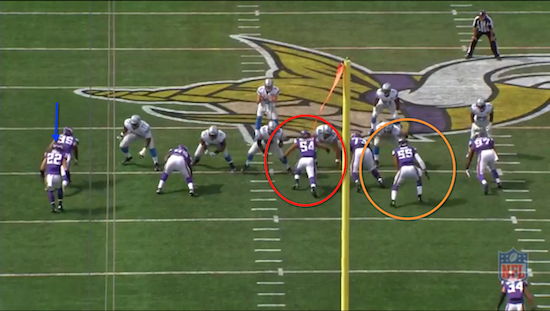 Credit: NFL Game Pass
Barr and Smith drop back into pass coverage and Kendricks goes after Stafford, representing the same formation but a completely different look. This play ended up going for a short gain after Stafford panicked.
It is this deception that has the potential to create all kinds off issues for San Diego. Rivers isn't known for being the best decision-maker, his protection is stuck guessing and Minnesota is trotting out multiple talented pass-catchers on defense.
Assuming that Xavier Rhodes can hold up in coverage against Allen (recent history says so), and Munnerlyn can maintain leverage on the revitalized Stevie Johnson—who will be running plenty of the underneath routes that Tate hurt the Vikings with—these blitz packages could have a huge impact on the game.
The only issue with running this formation time and time again is the chance that Rivers guesses right and dumps the ball off to pass-catching running back Danny Woodhead. Minnesota was subpar in coverage early in the game, but it appears that Munnerlyn is back to form, and they just don't get much better than Rhodes.
Simply put, forcing Rivers to think about his decisions without Allen coming free due to Rhodes, the Vikings would really only be endangered by Woodhead—a bit of an ironic sentence.
Key Players
Kyle Rudolph, Tight End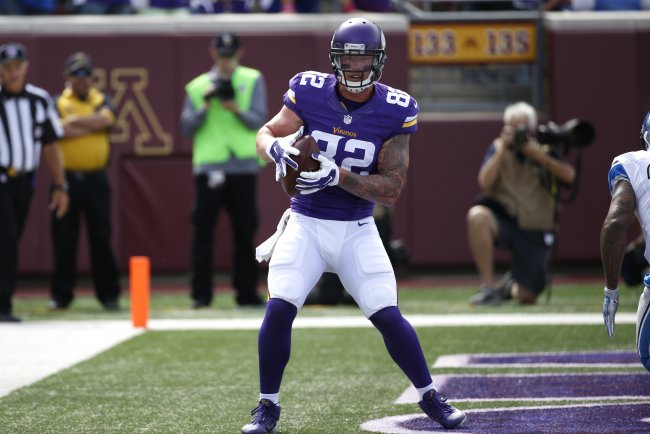 Ann Heisenfelt/Associated Press
We have already discussed who Rudolph will be covered by this coming Sunday and how he should be able to exploit this matchup, but the Minnesota tight end is a key piece every week.
Rudolph leads the Vikings in targets (13), and Bridgewater has proven his confidence in him. It really isn't much of a coincidence that a Turner offense features an accurate quarterback throwing to big, athletic tight end.
Melvin Gordon, Running Back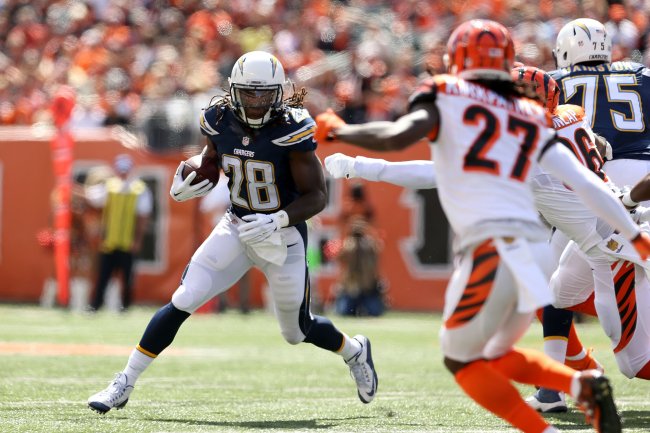 Andy Lyons/Getty Images
The rookie running back from Wisconsin certainly hasn't had the type of impact he is capable of. Gordon has totaled 139 rushing yards through two games without his first NFL touchdown yet.
Stopping the run is what puts Zimmer in a position to shutdown the game, but if Gordon comes anywhere close to half of his 408 rushing yards against Nebraska, the Vikings are going to be in a whole lot of trouble. He is undeniably a talented running back, but Minnesota should be prepared to quiet him for at least one more game.
Anthony Barr, Linebacker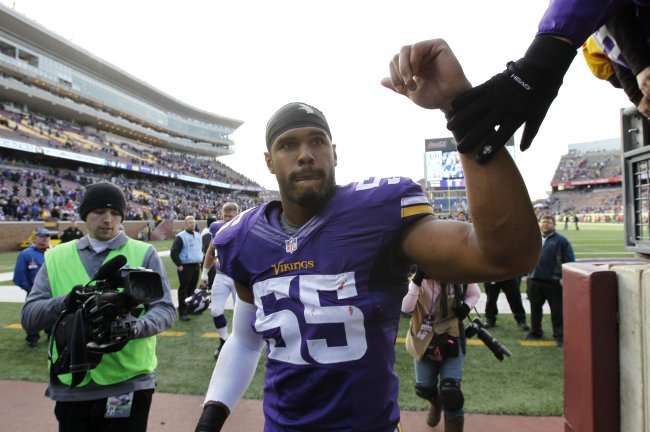 Ann Heisenfelt/Associated Press
It's not easy to impact football games in the numerous ways that Barr does, as accounting tackles, sacks, pressures, bat-downs … walk-off fumble recoveries. At this point in their careers, Barr is the superior player, but it's an interesting dynamic.
Though Harrison Smith has his ability of always being involved with turnovers, Barr is more of a pass-rushing threat with a forced fumble always on the horizon.
Watch out, Rivers.
Kyle Emanuel, Linebacker
Donald Miralle/Getty Images
Emanuel, an edge-rusher from North Dakota State, has begun to establish himself in a bit of a niche role. Since he's still playing under half of his team's snaps per game, he'll need to be efficient to have the impact he is capable of.
Emanuel has shown he is capable of playing at a high level, and the fifth-round draft pick can be a difference-maker in the Chargers defense—especially if Minnesota's offensive line continues to struggle with blitz pick-up.
Prediction: Vikings 24, Chargers 21
Which of the following will Minnesota have the highest number of against San Diego?
Interceptions
Sacks
Adrian Peterson Fumbles
Fumble Recoveries
Injured Offensive Linemen
vote to see results
The greatest weakness for the Vikings—especially after seeing a Double-A Gap formation pop in San Diego's film—has been the offensive line and its inability to hold up on deep drops as well as protect consistently against blitz formations.
Minnesota is expected to have starting guard left guard Brandon Fusco available, which is key for the Vikings. Peterson, who once upon a time broke the NFL single-game rushing record against the Chargers should be in store for another big game.
The Vikings possess more than enough talent and creativity to turn this game into a win if all things go well, but there is enough volatility here for either team to come out with a win. It will be a close, competitive contest with Blair Walsh breaking out of his kicking slump to be the difference.
Chargers vs. Vikings: What's the Game Plan for Minnesota?