The Vikings "likely not considering"S Trevon Diggs for Obvious Reasons
See? Over there? That's another ruined opportunity thanks to my brother.
In what would be the cherry-on-top of the nightmare sundae that has been the decline between the Minnesota Vikings and their former wide receiver, Stefon Diggs, it's been reported that the Vikings are now more than likely considering his younger brother, safety Trevon Diggs of Alabama, in the upcoming NFL Draft (if they were at all). Diggs has been linked to the Vikings for weeks now, with the trade potential of Anthony Harris, and at least at one point the idea of bringing the two Diggs brothers together in purple.
While it may seem like sour grapes, Diggs' brother was party to some of Diggs' online shenanigans (which obviously had an impact on him leaving the team in the midst of his prime), first by posting a photoshopped image of Stefon rocking a Washington Redskins jersey and saying "Welcome Home" in 2018…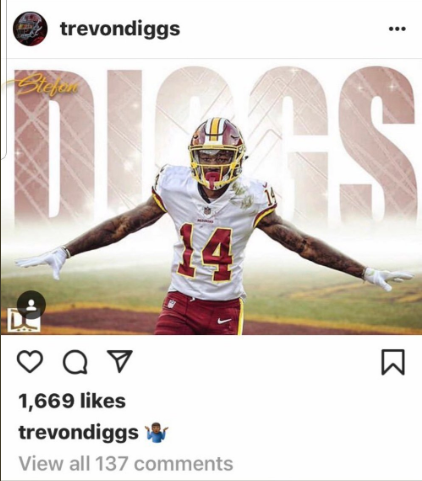 and then reportedly by supplying Diggs with the Arizona Cardinals shirt that was one of the final things that Diggs did before the Vikings accepted the boatload of picks that the Buffalo Bills offered for his services.
It would make sense, then, not to penalize the younger Diggs but rather to not want to bring him into a franchise that has had issues with his older brother.

Whether or not that's fair to the younger Diggs is more on his older brother than him, as the Vikings simply can't risk going from one malcontented Diggs to another, especially considering how important the 2020 draft has become for this franchise.

Did I say cherry? I meant a gigantic turd.