The 2020 NFL Draft concluded on Saturday and Minnesota Vikings GM Rick Spielman has once again done what he does best.
Over the course of the three-day draft, Spielman was certainly the most active GM in the league. Executing a number of trades, he solidified a 15-player draft class for 2020 (an NFL record for draft picks in a single draft), and already secured 12 draft picks for the 2021 NFL Draft.
Will all 15 of these drafted players make the team? Most certainly not, but the obvious goal is to find out who can make the biggest impact.
Spielman has gone on record to say sometimes, especially in this shortened scouting period due to Covid-19, it is best to load up on "lottery tickets". Find your guys, draft as many as you can, and see who can stand out in camp. Recent fifth-round draftee Stefon Diggs and UDFA Adam Thielen are testaments to how draft position doesn't define an NFL career.
With the Vikings' virtual offseason having started Monday, and the new draftees joining May 11, the team must quickly evaluate the newly acquired talent in the atypical training camp period, and we must do the same.
Below are my top-5 draft picks, based on a combination of fit, potential, and draft position.
5. LB Troy Dye, Oregon
Drafting Troy Dye in the fourth round of the NFL Draft is fantastic value for the Vikings. A four-year starter at Oregon and a previously projected second to third-round pick, Dye led the Ducks in tackles every year and finished his career with 391 total tackles, good for 3rd all-time in the Pac-12.
At this point in his career, the major question mark for Dye is his frame. Currently, scouts have described Dye as more of a safety than a linebacker, and occasionally he can have trouble fighting through blocks or delivering a big hit. Nonetheless, his 391 career tackles certainly isn't a fluke, and his athleticism and length certainly make up for any shortcomings.
Not only is Dye a terrific on-field addition, but his leadership and locker room presence has been praised countless times throughout his college career, and his tenacity is unquestionable. En route to Oregon's Rose Bowl victory, Dye played the second half of the season with a broken thumb and the final four games with a partially torn right meniscus.
If Dye is scouted more as a safety than a linebacker, it's plausible Spielman and Head Coach Mike Zimmer may be eyeing a position change for Dye to safety or perhaps spending time in the nickel cornerback slot.
Position change or not, the Vikings got tremendous value to snag Dye in the fourth round.
4. WR Justin Jefferson, LSU
With their first selection in the NFL Draft, the Vikings selected Justin Jefferson from LSU and sent the fan base into Civil War.
Half of the fan base was extremely disappointed to see a wide receiver taken so early in such a particularly loaded wide receiver class, and half of the fan base was ecstatic to add such a dynamic receiver to the team.
Regardless of what you think about the timing of the pick or the player himself, you can't deny his resume. Jefferson was a production machine at LSU in 2019, ranking 1st in receptions, 2nd in touchdowns, and 3rd in receiving yards in the NCAA.
The problem with Jefferson, and the reason he is not higher on this list, is because he has struggled against man coverage in his career. This limitation has all but forced him into playing primarily a slot role, and required LSU's coordinators to experiment with double moves and on-field alignments to get him the ball. There are major concerns about if he can learn to create space for himself to play on the outside.
What Jefferson is elite at, and the reason he was drafted in the first round, is winning contested catches and breaking tackles in the open field. If he can get even a bit of separation from his defender, he's extremely hard to stop.
The major question for Jefferson will be: Was Justin Jefferson a product of Joe Burrow? Or was Joe Burrow a product of Justin Jefferson and fellow standout Ja'Marr Chase?
3. CB Jeff Gladney, TCU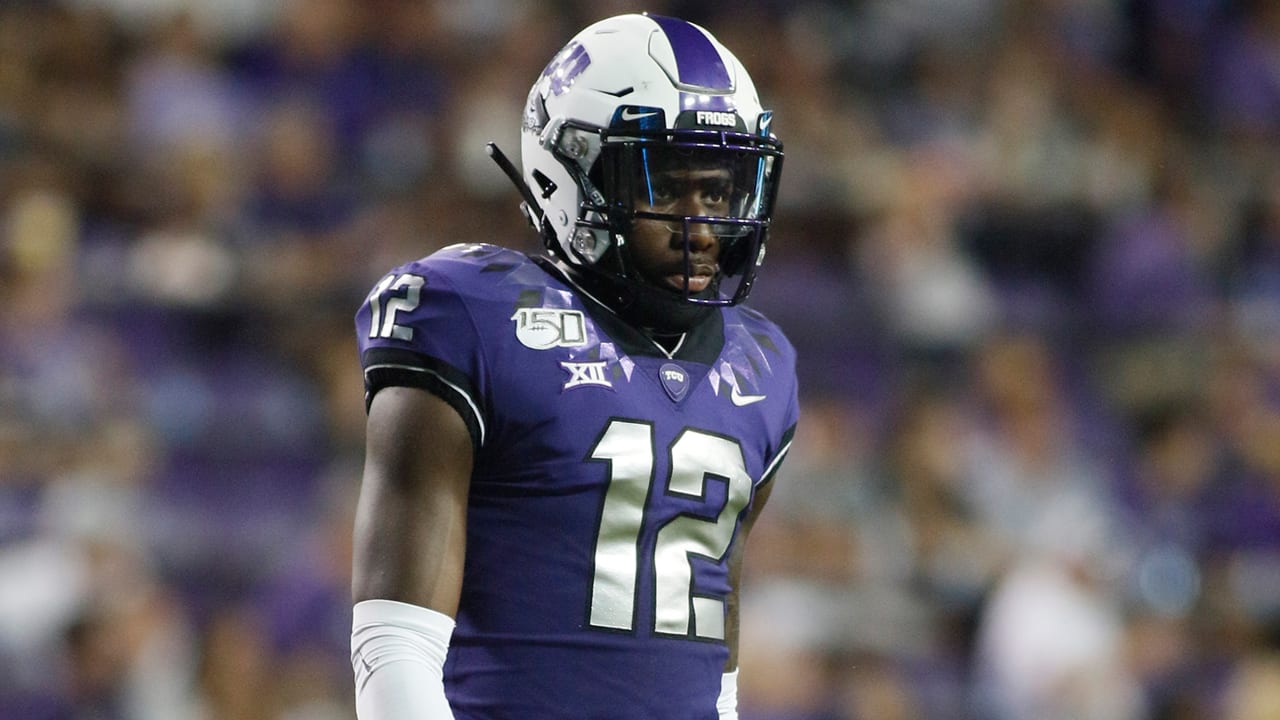 The Vikings traded down in the first round from pick 25 to pick 31, and still managed to get their man in Jeff Gladney.
Gladney is the prototypical cornerback for Mike Zimmer: A vicious, intense competitor who plays with a chip on his shoulder.
While a bit undersized at 5'10", he more than makes up for it with his speed, strength, and tenacity. Gladney squats 620 pounds, benches and cleans 400 pounds, and ran a 4.34 40-yard dash last offseason.
When posed with recent questions about his speed, according to the Twin Cities Pioneer Press, he showed up to the draft combine with a torn meniscus and still ran a 4.48.
"I got a high pain tolerance," Gladney told the publication. "I just want to win (…) If they need me to be physical with the big receiver, I can do that. If they need me to be quick and use my hips and feet on a smaller receiver, I can do that also."
In addition, he certainly doesn't shy away from challenges, forcing the most contested targets in college football since 2018.
Jeff Gladney is a mean, tenacious competitor who refuses to back down from a challenge. He will no doubt be making waves on Zimmer's depth chart this upcoming year.
2. OT Ezra Cleveland, Boise St.
Ezra Cleveland is a prospect that has rocketed up draft projections over the past few months, and with good reason.
The 6'6", 311 pound offensive tackle posted numbers in the draft combine that dropped jaws across the league. Cleveland had the fastest three-cone drill and 20-yard shuttle time of any offensive lineman, and ran a 4.93 40-yard dash, ranking third among all offensive linemen.
In fact, his three-cone and shuttle time wasn't just impressive for an offensive lineman, they were impressive period. Cleveland had the exact same shuttle time and a better three-cone drill time than Jalen Reagor, the newly acquired first-round wide receiver of the Philadelphia Eagles.
Cleveland is projected to be a developmental tackle in need of some bulking up, but what Cleveland lacks in strength he clearly more than makes up for in athleticism. He is the ideal lineman for Gary Kubiak's zone blocking scheme, and shows major similarities to Brian O'Neill, now a coveted starter for the Vikings who had similar question marks on his draft day.
I hate the "he's [insert player] 2.0" comments, but Cleveland is the closest thing to Brian O'Neill 2.0 that a person could hope for. If Cleveland can continue to improve his strength, punch, and separation, he will be a formidable and key lineman for Kubiak.
Technique can be taught. The elite athleticism Ezra Cleveland possesses can't.
1. CB Cameron Dantzler, Mississippi St.
I always try to stay as objective as I can, keeping a level head and being realistic with articles and projections, but at this point I am convinced Cameron Dantzler has the potential to be not only the best player from this years' Vikings draft class, but potentially one of the best values from the draft as a whole.
Think I'm crazy? Let me refer you to a tweet from PFF.
In case you didn't catch that, it says, "If you could guarantee us Dantzler could add 15 pounds of muscle, he'd likely be the second cornerback on our draft board." In other words, if Dantzler weighed 200 pounds instead of 185, PFF would have graded him right after Jeffery Okudah.
The knock on him is his weight – and that's about it.
Not his height – he's 6' 2". Not his knowledge of the game – he plays equally as well in zone as in man. Not his red zone defense – he hasn't allowed a red zone touchdown in his entire career.
"If he is so good why did he fall so far?" you might be asking.
I believe the answer is a combination of his weight, 40-yard dash time, and lack of a normal scouting process and pro day due to the pandemic. He ran a 4.64 40-yard dash at the Combine, but allegedly was fighting through a leg injury. He ran a 4.38 at his virtual pro day.
Going back to his on-field performance, Dantzler had his best performances against the hardest competition in the nation. Playing in the SEC, he faced the best teams in college football week in and week out, and gave up only 36 catches over the last two years combined.
From the first PFF tweet I included, in the thread they state Dantzler defended LSU's Ja'Marr Chase, arguably the best wide receiver in college football last year, better than any cornerback they saw on tape. In fact, Dantzler only allowed 12 yards that game when targeted. Did I mention LSU had arguably the greatest offensive season of all time?
Just for fun I'll leave this here:
Oh, and this too:
Let me be clear: he needs to put on weight to realize his potential in the NFL. He also needs to clean up some of his technique with tackling and coverage. But if an NFL training staff can help Dantzler put on just 15 pounds, and one of the best cornerback mentors in Mike Zimmer can clean up some deficiencies, this could be the steal of the draft for the Vikings.