Seattle Seahawks (5-0) 27, Minnesota Vikings (1-4) 26
Mike Zimmer made the correct choice, it just didn't work out
Mike Zimmer and the Minnesota Vikings were in a prime position to steal a game in Seattle against the undefeated Seahawks. The Vikings, up five with two minutes left in the game, were faced with a decision on a fourth-and-1 at the Seattle 6-yard line. Zimmer decided to go for it in hopes of running out the clock rather than taking the eight-point lead had he decided to kick the short field goal. 
In hindsight, it's easy to argue that Zimmer should've kicked the field goal after Alexander Mattison failed to gain the one yard for the conversation. However, as displayed by the events from Sunday night, Russell Wilson is really good, and he might be even better trailing in a two-minute drill. 
Wilson has played at an MVP level through the first five weeks of the season. Seattle only had one timeout, had the Vikings converted the fourth down attempt, they could've held possession for the rest of the game. The process in Zimmer's decision to try and avoid giving the ball back to Wilson was the correct call. The result was not there. For a coach whose team was already against the wall after a 1-3 start, Zimmer just has to live with it. 
Chicago Bears (4-1) 20, Tampa Bay Buccaneers (3-2) 19
David Montgomery needs to continue to be involved in the passing game
David Montgomery had a very inefficient night on the ground against a good Tampa Bay Buccaneer run defense. On 10 carries, Montgomery averaged 2.9 yards per carry on Thursday. Although, he made an impact because of two passing plays. 
The first play came on the drive that got the Bears back into the game. Chicago had fallen behind 13-0 in the first half and faced a third-and-7 outside of field goal range. Montgomery was able to slip out after the Bears picked up the blitz and everyone else ran routes toward the first down. Nick Foles got the ball to his running back with a ton of open field to pick up the first down after a 12-yard gain. 
Montgomery's biggest play came on Chicago's go-ahead field goal drive on a design play to the running back. He runs a wheel route out of the backfield, wide receiver Allen Robinson sets a "pick" — Robinson did a fantastic job of never touching the linebacker covering Montgomery — it opens enough space for Montgomery for a 17-yard gain.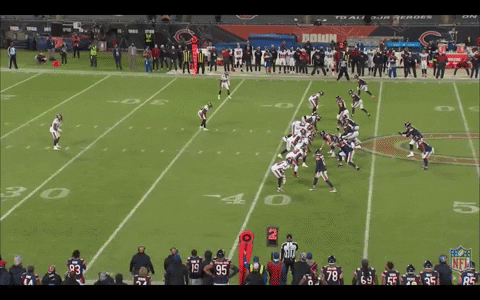 Chicago should continue to involve Montgomery in these plays with Tarik Cohen done for the season and open up more opportunities for the offense as a whole.