Each year in the two-week build-up to the Super Bowl there seem to be more and more ways that people attempt to predict the Super Bowl winner. There are more subjective ways, like people like me or others in the media writing or talking about their thoughts on the big game. Then there are the more objective, like those in the betting community using their analytics and experience to choose the lines, over/under, odds and winner. Both have benefits, and in regards to the latter, the fans will get some good options here for this weekend game between the 49ers and Chiefs (where KC is slightly favorite in what is expected to be a very tight game) in terms of researching every angle of the game.
Then we get into the non-traditional options. For example, there's an octopus that has been picking games for the last couple of years. The aptly named Octavia has been picking winners for the last couple of years (there's another one named Rocky doing the same) with surprising efficiency.
That brings us to Madden.
Madden, the only NFL video game in the business for some reason (RIP NFL 2k!) and thus is the best way for regular people like you and I to run simulations that feel fancier than they probably (or most definitely) are. This year an author from CBSSports.com "sparked up" his Xbox One to see what the outcome of the 49ers/Chiefs game would be.

I would've done the same but our Madden expert, DeSean Vaughn, essentially told me not to waste my money on a game that proves that monopolies are awful and that competition is needed in every industry. So, if this article was about the 2000 season and the best way to throw deep to Randy Moss every play (including but especially on 4th-down, because who punts?), we would've been in luck as I just found my Sega Dreamcast in storage!

Unfortunately, my TV doesn't have the correct inputs for a system that came out in 9/9/'99. So, let's rely on the above mentioned Xbox One Madden simulation. What ended up transpiring in that regard was actually pretty surprising, even to people like me that have picked the 49ers to win on Sunday night.

It's not surprising that the Niners won 20-7, but rather how they ended up winning: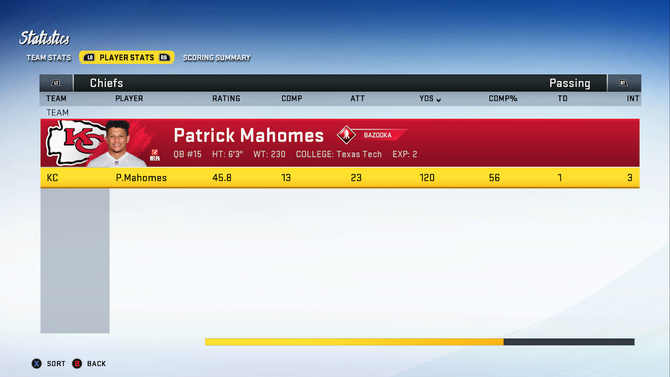 The 49ers defense has been scary elite this post-season, but it'd be a huge surprise if Patrick Mahomes, who is the heir apparent to the older quarterbacks like Tom Brady and Drew Brees, blew the game in that fashion. A 45.8 rating? 13 for 23 for 120 yards? 56% completions? One touchdown and THREE interceptions? Yikes.

Or perhaps it felt more surprising than it really is.

Yes, I'm bracing myself for the Chiefs fans to send me the internet equivalent to anthrax, but Mahomes has had some iffy games this season. He had a three-game stretch around October, for example, where his completion rates were 57.1/56.4/54.3 against the Lions/Colts/Texans. Granted, he still put up 315 yards, 321 yards, and 273 yards, but that's clearly volume-based if he's only completing a hair above half his passes.

Those were the only games until mid-November that he had a sub-100 (or sub 119 even) ratings, with 81.0/91.9/96.5, respectively. Not exactly terrible, but when you're going against a defense that's playing as out of its mind as the Niners, you're going to have to capitalize on every drive. Considering that Mahomes' worst game, in terms of QB-rating, was against the Detroit Lions, I have a feeling that the Niners might be able to vex Mahomes Sunday.

When you then throw in the fact that the Chiefs have a rush defense that's near the bottom of the league in terms of yards allowed, and the additional reality of what the Niners offense did against the Packers on the ground, and you're starting to see why a 20-7 score isn't that big of a reach. The ability to control the time of possession and flow of the game via the run could force the Chiefs to become one dimensional, and if Mahomes is forced to air the ball out 50 times, there's a decent chance for multiple interceptions.

That may seem strange as people really think of the Chiefs offense as the best in the league, but it's clear that Mahomes hasn't necessarily been perfect this season and considering he's going to be going against the best defense (or a defense that's playing like the best) in the NFL Sunday Night, he's going to need an MVP performance to even keep the Chiefs in this game.

Then again, Mahomes only threw five interceptions all year, so expecting him to throw 60% that many in one game may be a stretch. Or, even more importantly, maybe I should realize that an octopus in Arizona does a better job of predicting things than I do so I should keep my mouth shut.