This is one in a series that covers each team, offering viewers information for homework, suggestions and then the opportunity to make a draft pick.
When the NFL Draft begins first-round selections in Chicago on April 28, the Minnesota Vikings have the No. 23 pick in the first round.
Who should they pick?
Here is an in-depth look at the team's needs, offseason changes, potential best fit and the selections by NFLDraftScout.com's experts.
Who would you pick and why?
FACTS AND STATS
First pick in 2016 draft: 23rd overall
2015 Finish: First in NFC North
Record: 11-5, 0-1 in postseason; won division
Total offense: 321.2 (29th)
Rushing: 138.2 (4th)
Passing: 183.0 (31st)
Total defense: 344.2 (13th)
Rushing: 109.3 (17th)
Passing: 234.9 (12th)
TEAM NEEDS
Wide receiver: The biggest hole the Vikings couldn't fill in free agency was receiver. For years they've lacked a prototypical No. 1 receiver that has the size, length and speed to present mismatches down the field. Quarterback Teddy Bridgewater's primary weakness among many strengths is hitting the deep ball consistently.
Strong safety: The Vikings signed Titans veteran Michael Griffin, but age and recent track record make him far from a comfortable resolution at a position that has been a weakness since before head coach Mike Zimmer arrived in 2014. The Vikings also have younger players there, but they're overachieving special teamers or guys who have yet to step up and prove themselves.
Center: The Vikings' No. 1 offseason focus was offensive line. They upgraded the guard position significantly by adding 49ers free agent Alex Boone at left guard. They created the probability of a much better situation at tackle by signing Bengals free agent Andre Smithto compete for the right tackle spot. Center is a question mark. John Sullivan missed all of last season because of two back surgeries. His backup, Joe Berger, played very well, but he's also going to be 34 this season. The team also traded for Nick Easton, but he was an extremely raw rookie from Harvard.
Cornerback: This isn't an immediate need, but the Vikings know they have to keep stocking the shelves with young corners to compete for at least however long Aaron Rodgers remains the target in a pass-happy division. Terence Newman turns 38 early this season, while nickel slot corner Captain Munnerlyn enters his eighth season. The Vikings have an elite young corner in Xavier Rhodes and a promising starter-in-waiting in 2015 first-round draft pick Trae Waynes. But they can never take their eyes off this position. Not in this league. And especially at a time when they've finally found a way to stand toe-to-toe with Rodgers and the Packers.
PERSONNEL UPDATE (as of April 11)
Franchise player: None.
Transition player: None.
Unrestricted free agents:
LB Casey Matthews never played for the Vikings after an offseason injury. He's unlikely to return, but might if he doesn't get any offers anywhere else.
MLB Jason Trusnik won't be back. He was signed for depth late in the season and doesn't fit the plans going forward.
Restricted free agents:
FB Zach Line (tendered at $1.671M with no compensation) is the starting fullback and a guy who grew into his role more as his first season as a starter unfolded.
Exclusive-rights free agents: None.
Players re-signed:
RB Matt Asiata: UFA; $840,000/1 yr, $60,000 SB.
T Carter Bykowski: Potential ERFA; terms unknown.
MLB Audie Cole: Potential UFA; $840,000/1 yr, $40,000 SB.
NT Kenrick Ellis: Potential UFA; $810,000/1 yr, $25,000 RB.
TE Rhett Ellison: UFA; $1.75M/1 yr, $100,000 SB.
LB Chad Greenway: UFA; 1 yr, terms unknown.
RG Mike Harris: UFA; $2M/1 yr, $500,000 guaranteed.
CB Terence Newman: UFA; $2.5M/1 yr, $500,000 guaranteed.
SS Andrew Sendejo: Potential UFA; $16M/4 yrs.
CB/PR Marcus Sherels: UFA; $4M/2 yrs, $1.5M guaranteed.
WR Adam Thielen: Potential ERFA; terms unknown.
Players acquired:
G Alex Boone: UFA 49ers; $26.8M/4 yrs, $10M guaranteed.
S Michael Griffin: FA Titans; $2.5M 1 yr, $250,000 SB/$750,000 guaranteed.
LB Emmanuel Lamur: UFA Bengals; $5.5M/1 yr, $1M RB/$2M guaranteed.
TE Brian Leonhardt: FA 49ers; 1 yr, terms unknown.
LB Travis Lewis: UFA Lions; terms unknown.
T Andre Smith: UFA Bengals; $3.5M/1 yr, $500,000 guaranteed.
Players lost:
TIME TO PICK A PLAYER
The Vikings won't reach for a specific position, but their primary need and their position in the lower half of the first round strongly suggests they will select a receiver. By most accounts, Doctson has the size (6-foot-2, 202 pounds), athleticism (40-inch vertical) and ball skills to help the Vikings develop the deep passing game they so desperately need in the twilight of running back Adrian Peterson's career.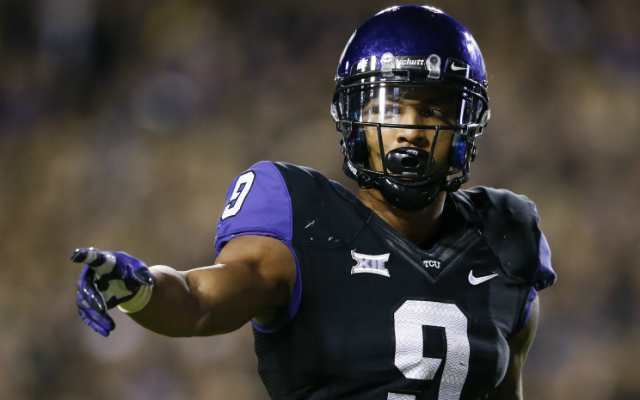 NFLDraftScout.com analyst picks (No. 23 overall):
Rob Rang: Josh Doctson, WR, TCU. With the needs along the offensive line addressed via free agency, the Vikings may look to help out young quarterback Teddy Bridgewater by boosting his receiving corps on draft day. The 6-foot-2, 202-pound Doctson has enough speed to challenge vertically and he's a master at winning contested passes due to his strong hands and body control.
Dane Brugler: Laquon Treadwell, WR, Ole Miss. The Vikings landed Teddy Bridgewater in the late first round two years ago and Christmas arrives in April once again this year for Minnesota. Treadwell is the top wide receiver in this class and gives Bridgewater a powerful possession target on the outside.
FANS ON THE CLOCK, ON THE RECORD
OK, who would you pick at No. 23 and why? Go on the record with your pick in comments.
Frank Cooney, founder and publisher of The Sports Xchange and NFLDraftScout.com, is in his sixth decade covering football and 26th year on the Pro Football Hall of Fame Selection Committee.
http://www.cbssports.com/nfl/draft/nfl-draft-scout/25551501/nfl-draft-vikings-on-the-clock-at-no-23